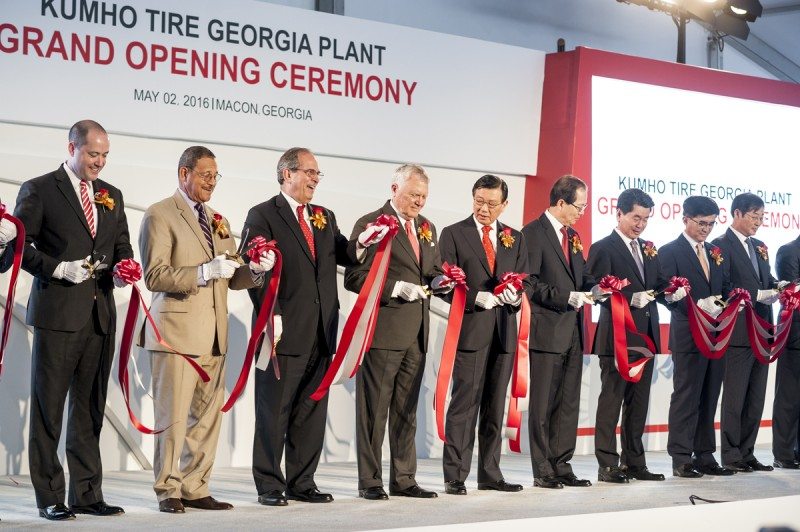 Kumho Asiana chairman Park Sam-Koo (5th from left) at the ribbon cutting ceremony for the new plant
Kumho Tire has held a ceremony to mark the opening of its new factory in the USA. The facility in Macon County, Georgia, enters operation with the capacity to produce up to four million tyres a year, and will later be expanded to a capacity of up to ten million tyres per annum.
"North America is one of the world's largest automotive and tyre markets," commented Kumho Asiana group chairman Park Sam-Koo at the plant's opening ceremony on 2 May. "A production base on this continent is a must if we are to significantly expand our presence in the market in our bid to become a top tyre manufacturer."
Construction work on the plant began in May 2008, however was halted for a time due to the global financial crisis. The project resumed in 2014 and was completed this spring. Kumho invested approximately US$450 million in the 80,000 square metre facility, which is located on a 53 hectare site.
According to Kumho Tire, the plant is equipped with a state-of-the-art automated production system that provides optimal product quality and production efficiency. An RFID tracking system, laser-guided and unmanned plant vehicles allow for the completely automated movement of products and real-time production control according to the FIFO (First in, First Out) principle.
The Macon County plant is Kumho's first in North America. Production at the site will primarily concentrate on the manufacture of car, UHP and light commercial vehicle tyres, including run-flat tyres, in 17-inch and larger dimensions. The tyre maker says 80 per cent of production will be delivered to OEM customers – it adds that these are "leading global vehicle manufacturers" that operate production sites in the NAFTA region, including BMW, Daimler, GM, Hyundai and VW, which all have plants within a 200 mile radius of Macon County. Some of the tyres sent to OEM customers will make their way to Europe on export vehicles.
Category: Company News, International News