MWSD appoints operations, finance directors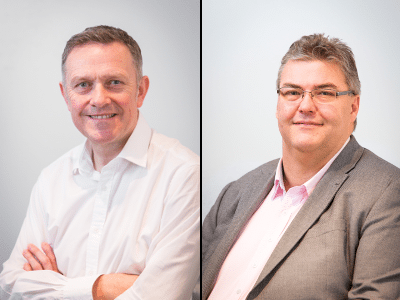 Wheel distributor targeting pan-European growth on back of impending EU law
Motor Wheel Service Distribution (MWSD) has strengthened its senior management team with Matthew Mardle joining as operations director and Clive Maudsley as finance director. Both appointments have been made with a view to strengthening the Manchester firm's European growth following the introduction of the European Union's Roadworthiness Act. This includes the classification of wheels as a "safety critical item", and with it the obligation to ensure the compatibility of the wheels and wheel hubs on commercial vehicles.
Mardle will overview the company's current distribution model in the UK and throughout Europe with a view to improving current processes and composition. He previously worked for Giti Tire in the roles of European supply chain director and general manager for Germany.
Maudsley has previously gained extensive European experience through his business consultancy firm. He will take over full strategic financial planning of the business and create new structures to support overseas business growth.
Based at the company's head office in Manchester, and reporting directly to managing director John Ellis, MWSD stated that both have the full support of the company's experienced technical, sales and marketing functions.
Introduction of EU Roadworthiness Act to spark wheel growth
Ellis said: "In one year's time [May 2017] the EU Roadworthiness Act will be implemented, at which point every CV operator which drives in and across the European Union will need a full aftermarket structure in place to support its wheel purchasing and fitting operations." Following adoption by both the European Parliament and European Council, the law states, "compatibility between parts and components, such as between wheels and wheel hubs, should be treated as a critical safety item and should be checked during roadworthiness testing."
Addition legislative text includes several visual wheel inspection prerequisites and also that "wheel size, technical design, compatibility or type not in accordance with the requirements [laid down by type-approval at first registration or first entry into service] and affecting road safety" will be classed as a major defect.
It also brings into context a number of minimum essential requirements that need to be stipulated when purchasing wheels, and furthermore the key roles that will be played by fleet managers and product purchasers.
"As we have maintained all along this will not place a financial burden on firms, quite the opposite as a well maintained wheel solution programme will improve the financial performance of every business.
"To take full advantage of this change in law and to advise fleets in every affected country, we also need to be in a position whereby the solution we offer in the UK can be delivered seamlessly throughout Europe. Matt and Clive will ensure we are in the best position to achieve these goals."