Michelin accorded last place in SUV tyre test, Nokian absent from final results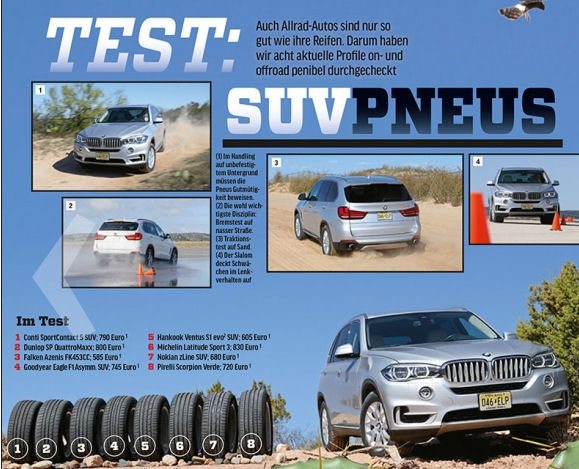 It isn't every day that a leading premium brand is handed the wooden spoon in a comparative tyre test, however Michelin is currently coming to terms with this tree-based utensil. The test in question appears in the current issue (12/16) of German magazine Autozeitung, and the tyre is the Michelin Latitude Sport 3. While the Michelin Rubber wasn't found significantly lacking in any particular area and finished very close behind several other products, it was nevertheless trumped fair and square when results of the various performance, environmental and cost-related tests were tallied up.
Autozeitung fitted the 255/55 R18W/Y summer SUV tyres to a BMW X5 and evaluated eight brands of tyre. Continental continued its string of German tyre test successes by securing first place with its ContiSportContact 5 SUV, which was rated 'highly recommended'. This rating was shared by runner-up tyre, the Dunlop SP QuattroMaxx, and the third-placed Pirelli Scorpion Verde Ecoimpact. The top trio were followed by the Hankook Ventus S1 evo² SUV, Goodyear Eagle F1 Asymmetric, Falken Azenis FK453 CrossComfort and the Michelin Latitude Sport 3.
The more mathematically-gifted reader will notice that only seven finishers have been mentioned in this test of eight tyres. The eighth, the Nokian zLine SUV, performed well enough in the 20 test criteria to earn itself the coveted third place, however limited retail availability at the time of testing meant it was impossible to crosscheck the Nokian test tyres against a set purchased by Autozeitung. For this reason, the publication decided not to include the zLine SUV in the final results.