Autoparts ends Ice Hockey season sponsorship in style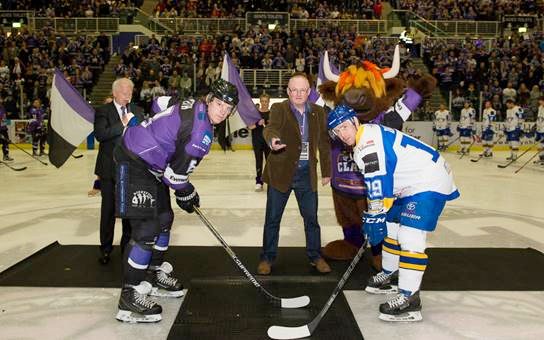 With the Elite Ice Hockey League (EIHL) 2015/16 season drawing to a close, Autoparts UK was invited to celebrate a successful season sponsoring Braehead Clan, who finished third in the table.
Craig McCracken, Autoparts UK group managing director, attended the Glasgow-based team's final game of the season, and was given the honour of dropping the puck to get the proceedings underway.
McCracken said: "We would like to congratulate the team on an incredible season. With ice hockey gathering a larger following year-on-year within the UK, it was thoroughly enjoyable to support The Clan live and get involved in games, while gaining great brand exposure with the sponsorship.
"Autoparts employees were also keen to get involved in the sponsorship with parts representative and East Kilbride semi-professional football player, Sean Winter, attending Braehead's Clan most recent game to present Man of the Match, as well as Autoparts team member, Tommy Aitken, being invited to the Player's Player presentation at the end of the season."
The EIHL is the only league outside the USA with affiliation to the NHL. Braehead Clan plays to 3500 fans and the club's attendance figures have risen 242 per cent in the past five years.
Running from September 2015 to March 2016, there are 26 home and away games, as well as the play-offs at the end of the season. Teams also compete in the Challenge Cup and for the Gardiner Conference.
The EIHL has a weekly round-up show on Sky and cable platforms reaching 200,000+ viewers per broadcast with Autoparts UK benefiting from TV-facing advertising boards, along with sponsorship on all team shirts.
McCracken continued: "We also sponsored Braehead Clan player, Brendan Brooks, who had a great season and met with us throughout the year. Overall, it was a fantastic year of ice hockey; the sponsorship gave us the opportunity to reach a wider audience and get behind this superb team!"