Tyre brand fidelity lower amongst younger consumers – US study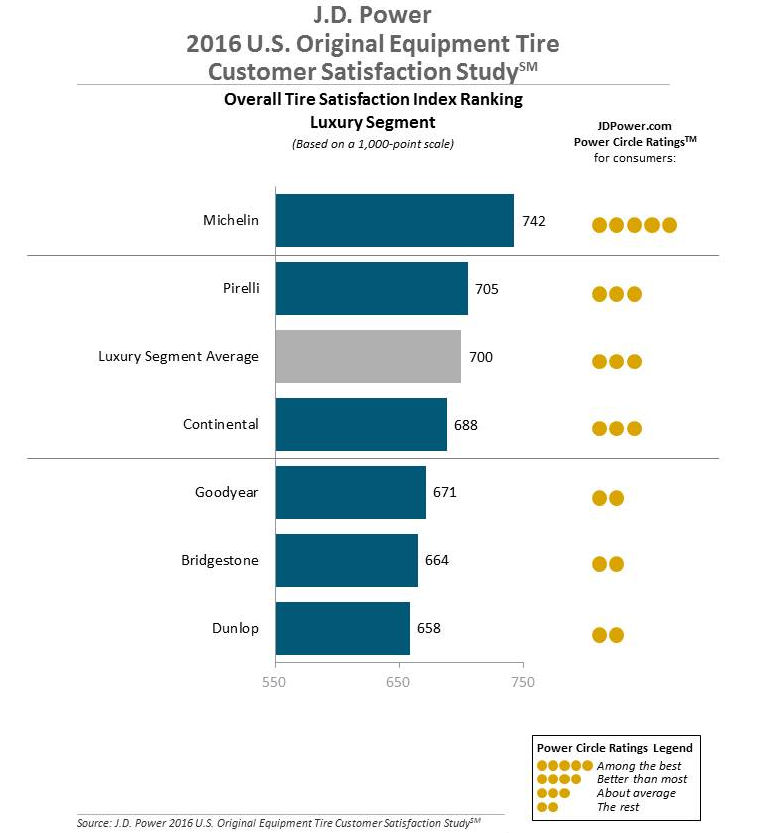 The results of the latest J.D. Power study into original equipment tyres in the US market shows higher levels of openness towards less-established tyre brands amongst younger consumers than their older counterparts.
Based on the responses of 31,977 original owners of 2014 or 2015 model-year vehicles, the J.D. Power 2016 US Original Equipment Tire Customer Satisfaction Study suggests that while established tyre brands such as BFGoodrich, Bridgestone, Goodyear and Michelin still possess the highest consideration rates amongst all generations, Generation Y (1977 to 1994) and Generation X (1965 to 1976) consumers are more likely to consider brands that are smaller or newer to the US market, such as Cooper, Hankook and Pirelli, when replacing their vehicle's original equipment tyres. In addition, 70 per cent of Generation X and 72 per cent of Generation Y consumers switched tyre brands if replacing two or more tyres, a significantly higher rate than the 59 per cent recorded for Boomers (1946 to 1964) or the 61 per cent of Pre-Boomers (born before 1946).
"Gen X and Gen Y are more receptive to the lesser-known brands in large part because those manufacturers have focused their marketing efforts on younger consumers," commented Brent Gruber, director, global automotive division at J.D. Power. "These consumers are increasingly looking at the value proposition, not just the cost or brand of the tyre; if the perceived value is there, they're willing to spend more or consider alternative brands."
Gruber noted that, given RMA figures that show replacement tyres account for more than three quarters of the almost 300 million passenger car and light truck tyres sold in the US market each year, manufacturers cannot afford to ignore younger consumers. Together, Generations X and Y accounted for 53 per cent of new vehicle retail sales last year, up from 50 per cent in 2014.
"The OE tyre experience generates a lot of replacement tyre sales, so it's critical for manufacturers to ensure that they're providing a positive experience and building future loyalty," said Gruber. "There is a lot of business at stake, and tyre manufacturers are faced with a large and growing younger customer base that isn't necessarily as brand loyal as previous generations. The key to attracting and keeping younger customers is to demonstrate the value and performance of the tyre."
The study measures satisfaction amongst tyre owners in four vehicle segments: luxury, passenger car, performance sport and truck/utility. Satisfaction was examined in relation to a tyre's wear, ride, appearance and traction/handling. Results and rankings are based solely on owner experiences with their tyres after two years of vehicle ownership.
Overall tyre satisfaction after two years of ownership is highest in the youngest and oldest generations. Overall satisfaction in both the premium and non-premium segments is highest among Gen Y owners (708 and 674, respectively, on a 1,000-point scale). Among Pre-Boomers, overall satisfaction in the premium segment is 704 and in the mass market segment 672. Satisfaction among Gen X the premium and non-premium segments is 692 and 655, respectively, the lowest among all generational groups. Gen X is significantly less satisfied than the other age groups in the tyre wear measure.
Michelin ranks highest in three of the four segments: luxury (742), passenger car (724) and truck/utility (698). Pirelli ranks highest in the performance sport segment (724). Pirelli ranks second in the luxury segment (705), passenger car segment (689) and truck/utility segment (680). Goodyear ranks third in the passenger car segment (684) and BFGoodrich ranks third in the truck/utility segment (663). In the performance sport segment, Michelin ranks second (718) and Goodyear third (705).