Pirelli previews 3rd Russian grand prix at low-tyre degradation Sochi circuit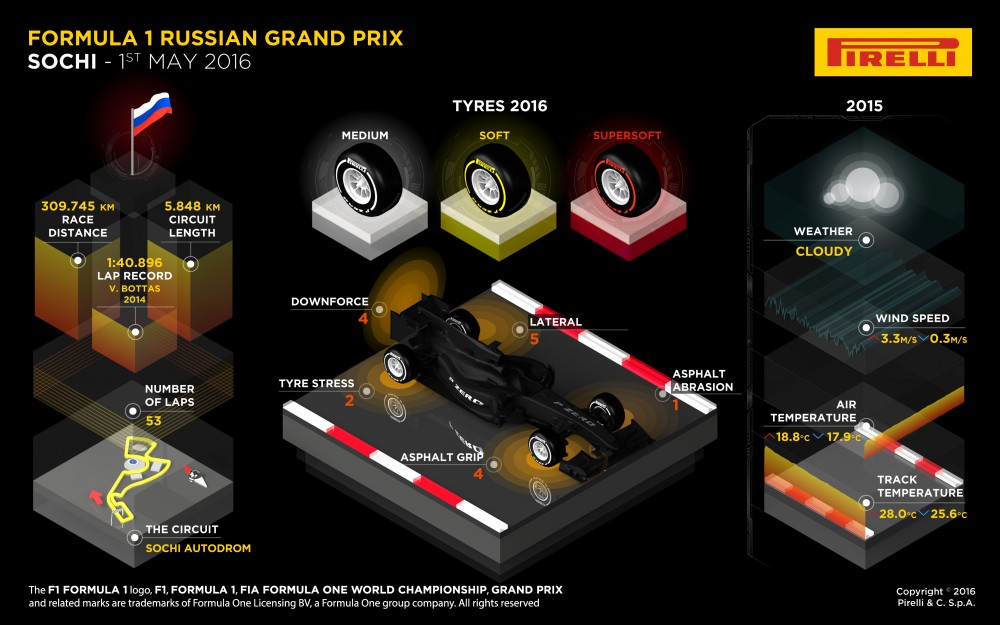 Pirelli will take its medium, soft and supersoft compounds to the Russian Grand Prix at Sochi, marking the fourth time in as many races in 2016 to feature the Red, Yellow and White P Zero Formula One tyres. The varied, technical track has a smooth surface that typically leads to low tyre wear and degradation, but Pirelli says its nomination will deal with any evolution of the three-year old asphalt that may have occurred since 2015's visit, or indeed across the weekend, since the circuit is not heavily used.
Pirelli expects a small number of pit stops due to low tyre degradation and the mild climate. The tyres will be challenged most y Turn 3, a multi-apex left-hander that recalls Istanbul's Turn 8, and by the 1.7km of public highways integrated into the 5.848km lap.
Lewis Hamilton won the Russian grand prix in 2015 using a one stop strategy, starting on the supersoft, and changing to soft on lap 32. Sergio Perez, who finished third, made the same change 20 laps earlier, running 41 laps on the soft. Only two drivers stopped twice.
Paul Hembery, Pirelli motorsport director, states: "We're back to Russia just six months after coming to the race previously, which means that we can probably expect conditions in spring to be different from how they were last autumn. This is one of the lowest degradation tracks we visit all season, so we can expect to see some quite long stints even on the supersoft, as Lewis Hamilton showed last year. However, the performance increase that we have consistently observed from the 2016 cars will increase wear, so free practice will be very important to get an accurate read on tyre behaviour in these new conditions with the latest generation of cars."