New steer, drive tyres from Sava and Fulda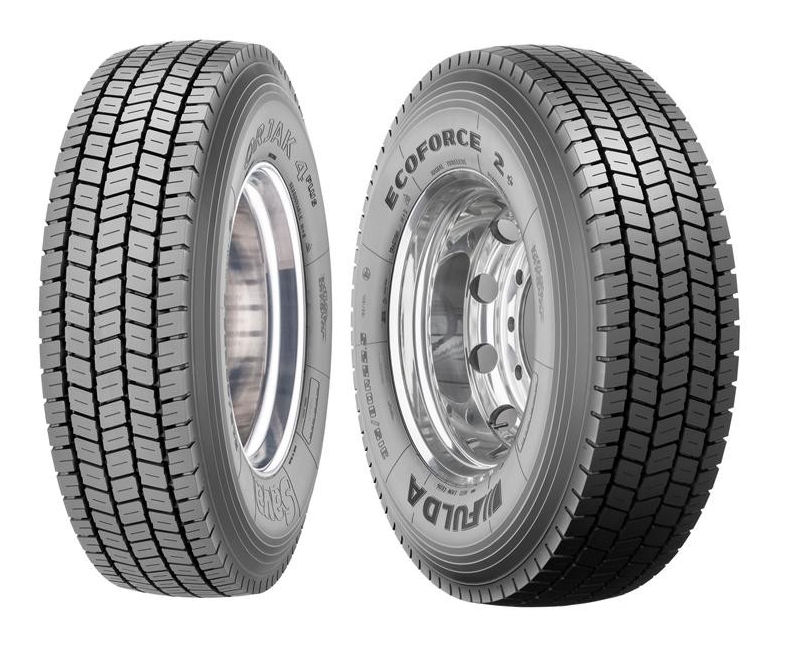 Goodyear's European truck tyre portfolio has been enlarged with the introduction of drive and steer tyres into its Sava and Fulda brands. The new Sava products are the Avant 4Plus steer and Orjak 4Plus drive tyres, while the corresponding Fulda tyres are the steer axle Ecocontrol 2+ and the Ecoforce 2+ drive tyre. The two brands share a common design and tread pattern, with sidewall labelling the sole point of difference between the Sava and the Fulda products.
According to Goodyear, the drive and steer tyres offer "all-season versatility" and are marked with both the M+S and Three-Peak-Mountain-Snowflake (3PMSF) symbols. In addition, the tyre maker reports that the tyres deliver, depending on size, up to ten per cent better mileage than their respective predecessors.
Seven sizes are available in both the Sava Avant 4Plus and Fulda Ecocontrol 2+ steer tyre ranges, including one new size, 385/55R22.5. Goodyear says the tread profile gives an "optimal footprint to ensure even wear and high mileage." This feature, along with the tread's sipe geometry, is said to aid tread deformation and thus improve winter performance in wet and icy conditions. The widest sizes, 385/55R22.5 and 385/65R22.5, now have six ribs rather than the previous five-rib design.
The Sava Orjak 4Plus and Fulda Ecoforce 2+ drive tyre ranges each contain five sizes. Mileage is boosted thanks to the use of a deeper tread pattern, while enhancements to the shoulder area is said to improve handling and stability and further contribute to winter performance.
The first fitments are now available and further sizes will be progressively introduced in the months up to September 2016. The Sava Avant 4Plus and Orjak 4Plus complement the Sava Cargo 4 trailer tyre, which is available in sizes 385/65R22.5 and 385/55R22.5, while the two Fulda tyres complement the Ecotonn 2 trailer tyre.