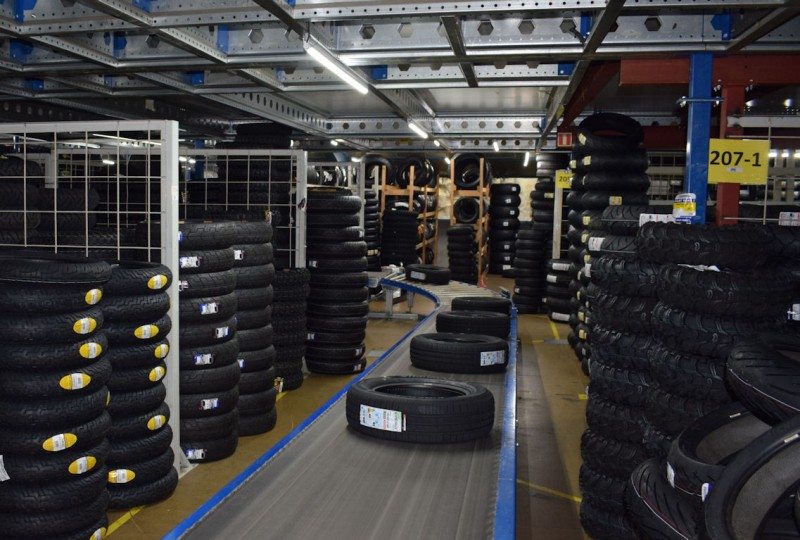 Car and two-wheel tyres make their way through the TTI warehouses on a 1.4 kilometre conveyor system
A point of consensus within Europe's tyre wholesaling sector is that companies must adapt to stay competitive in a changing market environment. Each wholesaler we've spoken with this year is approaching this task from a slightly different angle; Tyre Trading International (TTI) is embracing technology, logistics and marketing, and is following up significant recent steps forward in these areas with continued investments.
Company owner and director Peter-Alexander van'T Hof observes that tyre wholesaling in Europe is a "battle that gets tougher every year," and he's convinced that companies must choose whether they'll arm themselves for this fight or retreat to other areas of the tyre business. "Surviving in wholesale involves changing your company," he comments. "Change is tough, but to prosper as a wholesaler you must find a way to add some value to the chain."
Logistics and marketing the main thing
These changes have seen the wholesaler's focus shift away from a sales-driven approach to one where marketing, IT and logistics play an important role. While Peter-Alexander shares that 2015 was a good year for the company, the positive result it enjoyed came on the back of a lot of hard work and investments, both in warehousing and in IT.
At the heart of TTI's in-warehouse logistics is a 1.4 kilometre long conveyor system that entered operation in January 2010 and winds its way through the wholesaler's two warehouses in Numansdorp, the Netherlands. Peter-Alexander says the system, which can handle up to 400 different small orders per hour, is "very efficient." It is being extended into the company's newest warehouse, which will be finished by the end of April and replaces one of the two warehouse facilities that TTI currently rents. The other will most likely be replaced by a custom-built warehouse in the coming three to four years, the TTI director adds.
Marketing has come into its own as a significant focus for TTI, and is handled by a dedicated team. Peter-Alexander notes that while the largest tyre manufacturers take care of their own marketing requirements very effectively, smaller and less-stablished brands require help to gain a local market presence. "They need wholesale companies for more than just distribution, they need wholesalers to look after their marketing. Otherwise they can't make a connection with end consumers." He adds that this role, which TTI has taken on for several brands, is of particular importance in markets where tyre majors own or control a high percentage of tyre retail outlets.
TTI's marketing activities are backed up by in-house solutions produced by the wholesaler's five-person IT team. During the first quarter of this year, the team rolled out a new webshop and website. The TTI webshop went live at the start of March 2016, and the website a month earlier. "They've made the website completely different from and much better than the old site. All aspects of it are search engine optimised," comments Peter-Alexander. "We're now a lot easier to find and we're getting requests from all over the world. The whole website has been designed based on SEO technology – we didn't just add some keywords to help Google find us, we worked out the rules Google works by and built the site according to this. Every aspect was properly done." The new website is currently available in Dutch; a German-language version will go online in May and will be followed by French and English sites.
Developing a new online model
Peter-Alexander van'T Hof says having an in-house IT team allows for a more rapid response to end user needs; in addition to producing solutions that combine marketing and IT, such as end user apps and games developed together with tyre makers, the team is behind a new partnership that TTI has prepared for its customers.
"We've developed a webshop partnership with our customers," he explains. "We offer them a webshop that is designed to look and feel like the customer's own shop, and we share online profits. While tyre dealers typically only make money on the mounting fee from online sales, this model shares online profits."
With its webshop partnership, TTI believes it has come up with a model that provides an antidote to online portals. "We can't go back to the wholesale environment of ten or 20 years ago, so we need to find an acceptable way forward for wholesalers and retailers within today's market," states Peter-Alexander van'T Hof. "There's no future in a business model that sucks the profit margin out of the market. We need a model that offers wholesalers and retailers some profit margin, and this may be it."
Category: News