Continued growth in European, UK commercial vehicle markets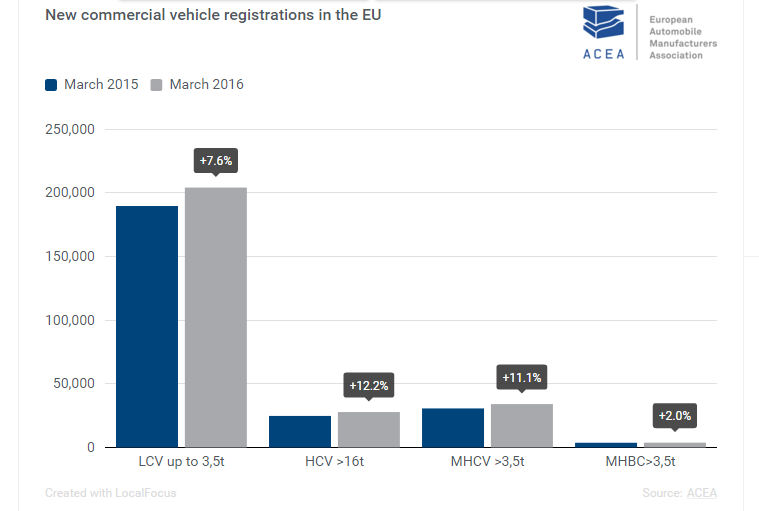 Demand for new commercial vehicles in the EU increased for the 15th month in a row in March, reports the European Automobile Manufacturers Association (ACEA). Across the entire EU, new commercial vehicle registrations of all types rose 8.0 per cent to 242,049 units. Generally speaking, the highest rates of growth were recorded in the EU12 countries, where registrations were up an average of 15.9 per cent during the month.
The UK was the largest national market for commercial vehicles and recorded 70,636 new registrations in March 2016, almost a quarter of the EU total and a year-on-year rise of 3.2 per cent. Most of these were light commercial vehicles weighing up to 3.5 tonnes; 63,913 of these vehicles were newly registered in the UK last month, 3.3 per cent more than a year earlier. New registrations of medium and heavy commercial vehicles over 3.5 tonnes also rose 3.3 per cent year-on-year, to 5,715 units; 4,263 of these were heavy commercial vehicles over 16 tonnes, a segment that recorded a 0.9 per cent better result than a year earlier. UK registrations of buses and coaches weighing more than 3.5 tonnes declined 2.9 per cent to 1,008 units.
During the first quarter of the year the EU market expanded by 12.1 per cent and totalled 563,132 commercial vehicles. The UK market rose 2.2 per cent to 111,854 new registrations. Of this total, 98,906 where in the under 3.5 tonne category, a rise of 1.2 per cent year-on-year, while the over 3.5 tonne category rose 16.1 per cent to 11,217 units, including 8,281 vehicles weighing 16 tonnes and over. Registrations of buses and coaches weighing more than 3.5 tonnes dropped 13.2 per cent to 1,731 units.
The full ACEA report can be read here.