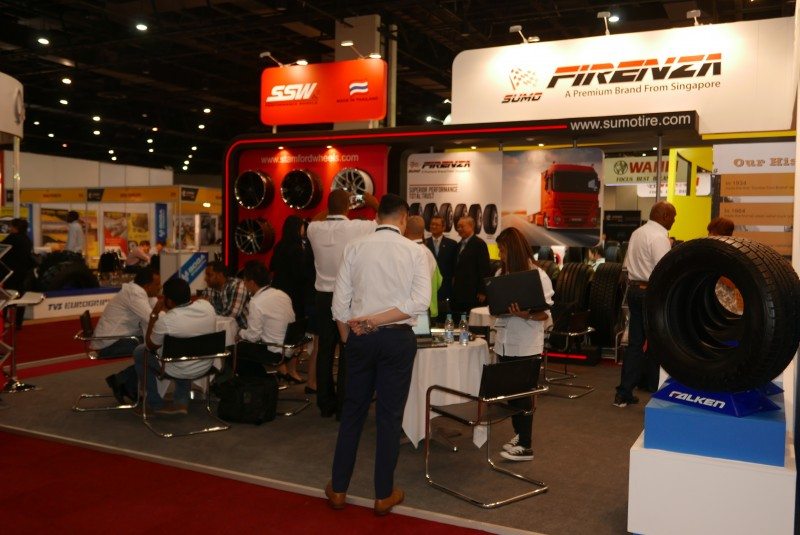 Show attendance forms a key part of Firenza's ongoing marketing strategy
Singapore-based brand Firenza will be exhibiting at Reifen 2016, showcasing its car, UHP, 4×4, winter, light commercial and truck tyres. At the same time a powerful and stunning display of Stamford Sport Wheels (SSW) from Thailand will also be showcased during the event.
The Firenza ST-05A ultra high performance pattern which is aimed at "sports-minded drivers of high powered saloons and sports cars" will be on-show. Also for the rapidly evolving 4×4/SUV sector, Firenza will offer three distinctive patterns – the AT-186, HT-183 and ST-185 which covers all applications for both on and off road driving. The there's the Firenza SV053 tyre, which is said to be "specially manufactured in South East Asia implementing the latest tyre building technology from Japan".
Finally, for the truck market, the SSR05A steer and SSD08 steer patterns, SSM07 all position and SSM10 aggressive driving patterns will able be exhibited. Also, for the super single market the Firenza SSR055A, SST066 and SSR065 tyres are available.
The SSW wheel display will introduce its latest designs in its special 'Euro Technik' range which is exclusively produced for the European wheel sector as a quality choice for prestige and luxury high performance vehicles. Also SSW is currently looking to further enhance its constant level of new wheel designs and colours for leading marques and in particular for the 4×4/SUV sectors.
In conclusion, Larry Lee, Firenza's vice president for international distribution said: "At the Reifen 2016 show we will also be launching several new tyre patterns to further enhance our position as a leading supplier of superior mid-range tyres in Europe."
Category: International News, News