New generation Falken tyres for new Porsche racer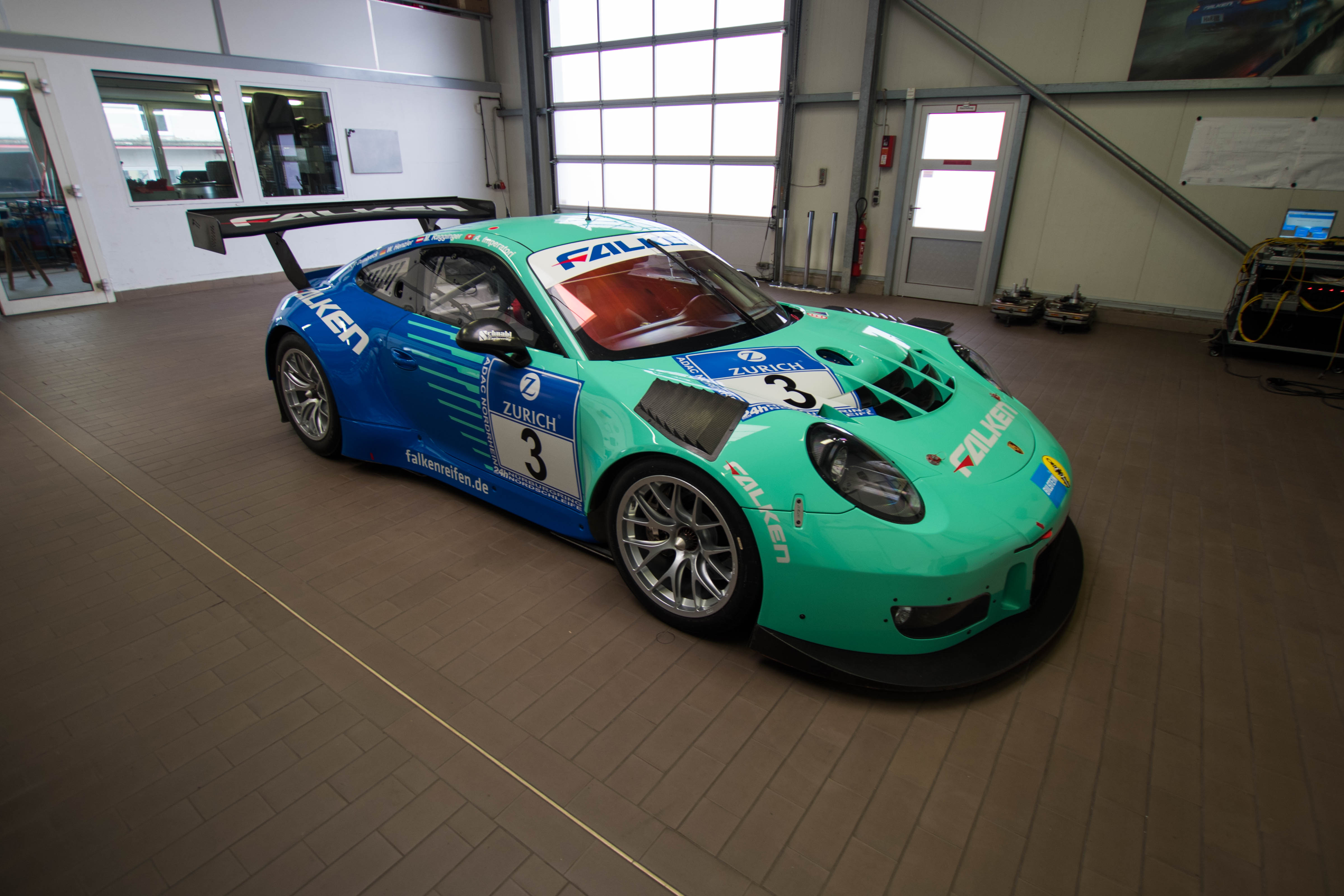 Wolf Henzler, Peter Dumbreck, Martin Ragginger and Alexandre Imperatori will battle it out for Falken, aiming for top three places in the VLN Championship as well as the Nürburgring's 24h-Race.
The Falken Porsche 911 GT3R (991) is powered by a water-cooled six-cylinder engine and has a total weight of approximately 1,220 kg – around 60 kg lighter than its predecessor. The new racer's wheelbase is 8.3 cm longer, and its centre of gravity has been optimised by using advanced lightweight techniques in building the bodywork, chassis and add-ons, aimed at maximising the vehicle's performance.
After initial testing in December, a further round of tests was held in mid-February in Portimao, Portugal, where the second-generation Falken tyres were put through their paces on the new Porsche. In the first round of tests, tyres from the preceding 997 model were fitted to the new 500hp racer for comparison. The results of these tests were then used by the Falken Motorsports engineers in Japan to design a new generation of advanced motorsport tyres tailored to the Porsche.
"We tested the car over 2,300km under conditions that matched what we can expect from the Nürburgring in spring," says Wolf Henzler. "This Porsche is streets ahead of its predecessor and Falken's new-generation tyres will enable us to take a further leap towards victory. The car is rock-solid and I'm confident we have what it takes to climb the podium. The 24h-Race is a long, long event where a lot can happen – so we'll just do what we did last year: drive, drive, drive!"
Since selling the 997 Porsche, Falken's fans have been waiting for the confirmation that the tyre manufacturer would move to a 991. "The Falken Motorsports fan community was buzzing with speculation about the new race car, so we decided to fuel that excitement," says Stephan Cimbal, head of marketing at Falken Tyre Europe. "We launched the campaign by featuring the sale of our old Porsche and then added information bit by bit to whip up the tension. It worked really well! Of course we knew some fans had already guessed the new car would be a Porsche – and now their suspicions are confirmed. Personally, I'm delighted that we're continuing our partnership with Porsche and building on our many successes at Nürburgring with this model's predecessor."