Mitas introducing new earthmover tyre range, size additions at Bauma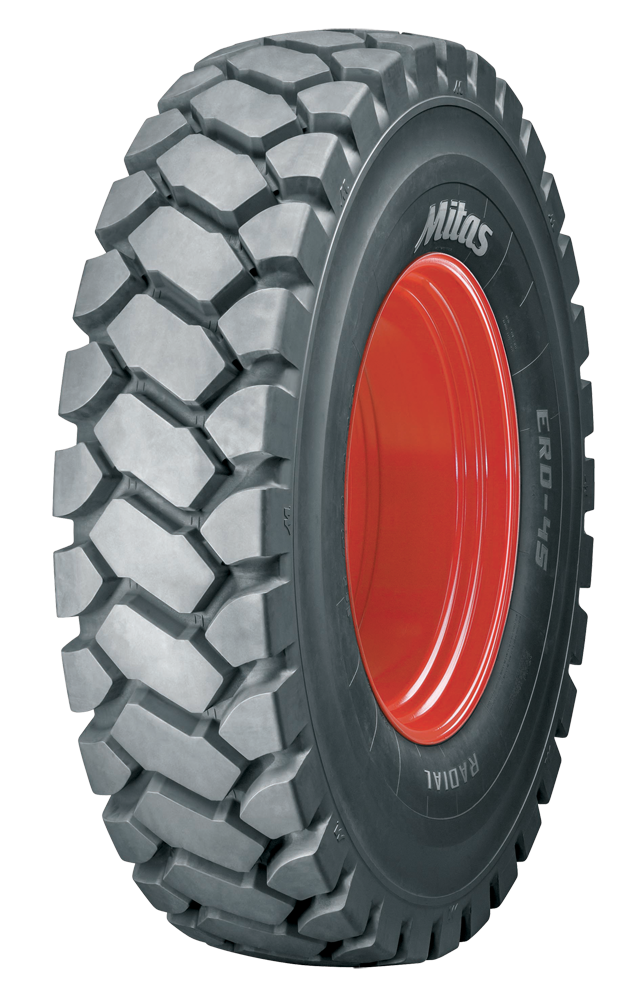 At next month's Bauma show, Mitas will unveil a brand new tyre for rigid dump trucks. The ERD-45, which will initially be available as a size 18.00R33 fitment, will go on sale in May and is designed for use in hard surface conditions. Mitas says the ERD-45 offers excellent traction, and the tyre's sidewall protection offers good cut resistance. Three further sizes, 21.00R33, 21.00R35 and 24.00R35, will join the ERD-45 range in 2017 and 2018.
"Mitas is significantly extending its product range in the segment of Earthmover tyres and ERD-45 is one of the highlights," shares Andrew Mabin, sales and marketing director at Mitas. Mabin adds that Mitas will introduce four new tread patterns and eight new tyre sizes into its earthmover segment portfolio throughout the course of 2016. "These product launches are made possible thanks to the massive investment we did in our production plants in last years."
The ERD-45 tread pattern joins the ERD-20, ERD-30 and ERD-40 patterns in Mitas' earthmover tyre line-up. The ERD range is designed for use on transport vehicles, including fixed and articulated dumpers, and scrapers. Mitas ERD-45 18.00R33 is designed particularly for rigid dump trucks and it is a first size in Mitas product offer for this segment of vehicles. In 2017 and 2018 Mitas will offer three additional sizes of ERD-45 namely 21.00R33, 21.00R35 and 24.00R35.
In addition to launching all-new product lines, at Bauma Mitas will also display new size additions to its current portfolio. These include the ERL-40 loader and grader tyre in size 29.5R2, a product that will come to market in September.