'Higher risk' when buying used electric or hybrid cars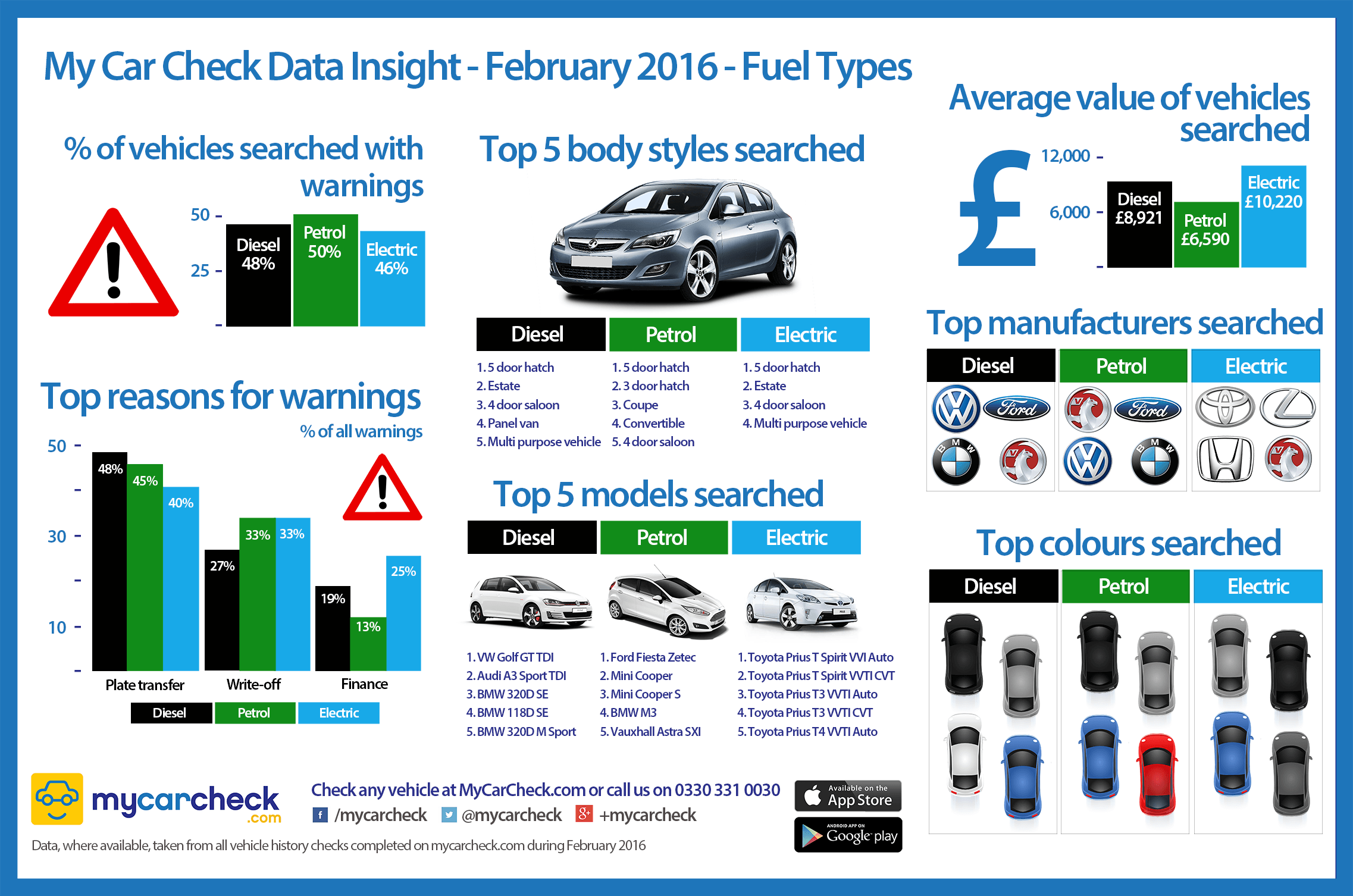 New figures from My Car Check have highlighted the different risks associated with buying a secondhand electric or hybrid car. Most significantly, green machines are more likely to have outstanding finance than their petrol or diesel counterparts.
25 per cent of warnings against electric/hybrid cars checked in February 2016 were for finance, compared to 19 per cent for diesels and 13 per cent for petrol vehicles. Petrol and electric/hybrid cars were equally likely to have been previously written off (33 per cent), making them riskier in that department than diesels (27 per cent).
Other key differences concern prices and preferred makes and models. The average value of electric/hybrid cars checked was £10,220, compared to £8,921 for diesels and £6,590 for petrol cars. Toyota topped the most popular electric/hybrid manufacturer chart, ahead of Lexus, Honda and Vauxhall, while BMW, Ford, Vauxhall and VW led the way in both the petrol and diesel charts. In terms of most popular models, the Toyota Prius dominated the electric/hybrid chart, taking the top five places. The most-searched models in each fuel category were: Toyota Prius T Spirit VVI Auto (electric/hybrid), Ford Fiesta Zetec (petrol) and VW Golf TDI (diesel).
Overall, petrol cars are more likely to have a warning against them than a diesel or electric/hybrid (50 per cent vs 48 per cent and 46 per cent respectively).
In terms of similarities across the fuel types, five door hatchback was the most popular body style and black and grey were the most popular colours.
Head of valuation services at My Car Check, Gavin Amos, said: "These new figures show the specific issues to consider when buying a used electric or hybrid car. With ever more cars being bought on finance, particularly Personal Contract Purchase (PCP), it is important to check if the used car you're looking at has any debt against it. The picture for pure electric vehicles is complicated by the fact that the battery is sometimes leased separately to the actual car, which can trigger an outstanding finance warning.
"As to prices, the average electric or hybrid car will be younger than the average petrol or diesel, and the limited numbers help to keep used values strong. Perhaps the most surprising result is that electric/hybrid cars are just as likely to have been written off as petrol cars, despite the latter's many sporty variants."
CDL Vehicle Information Services, which owns My Car Check, performs over a million look-ups a day for companies including AutoExpress, CompareTheMarket, Go-Compare, Moneysupermarket, Swiftcover, Tesco and WhatCar?.
It uses up-to-the-minute data from the police, the Driver and Vehicle Licensing Agency (DVLA), the Association of British Insurers (ABI) and all major finance houses, including Lloyds TSB and Santander.
To help UK consumers make the right choice, My Car Check can confirm in seconds whether your potential pride and joy has ever been scrapped, stolen or written-off, has any money owing on it, has had a plate change and much more.