GM names Bridgestone a Supplier of the Year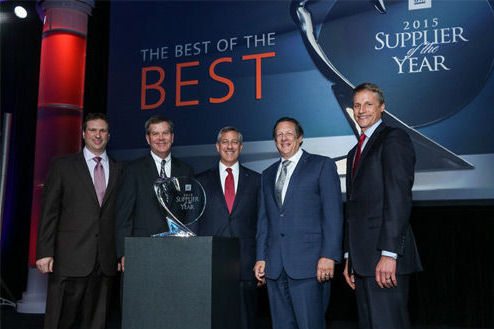 On 10 March, General Motors held its 24th annual Supplier of the Year awards ceremony in the company's headquarters city of Detroit, recognising 110 suppliers from 17 countries, including Bridgestone. It was the 14th occasion that Bridgestone Corporation has been designated a GM Supplier of the Year since the vehicle manufacturer inaugurated the award in 1992.
"This award is a tribute to our employees worldwide who engineer the high quality tires and provide the exceptional service that outstanding partners like GM have come to expect from Bridgestone," said Mike Martini, president of Bridgestone Americas Tire Operations' original equipment, US and Canada consumer tyre sales division. "We are honoured that GM has recognised us for a 14th time for providing innovative solutions to meet the emerging needs of their customers."
Martini accepted the award on behalf of the company alongside Gary Garfield, president and CEO of Bridgestone Americas, and John Behr, senior director, original equipment account management, Bridgestone Americas Tire Operations.
"We are focused on building positive supplier relationships, bringing new, customer-centric innovations to GM, and being the OEM of choice among suppliers," said Steve Kiefer, GM vice-president, global purchasing and supply chain. "The companies we recognise not only have brought innovation, they delivered it with the quality our customers deserve."
Winning suppliers were chosen by a global team of GM purchasing, engineering, quality, manufacturing, and logistics executives and selected based on performance criteria in product purchasing, indirect purchasing, customer care and aftersales and logistics.
"Bridgestone has been a major tyre supplier to Opel/Vauxhall for many years now and was extremely proud to receive such an accolade from GM," commented Christophe de Valroger, vice-president of Bridgestone Europe's OE consumer business. "It's a great reflection of the efforts and strong teamwork from all departments across Bridgestone Europe working in partnership with a customer to produce class leading products driven by innovation and technology. We look forward to building on this great customer relationship."