BBS adapts CH-R design for exclusive "Nürburgring Edition"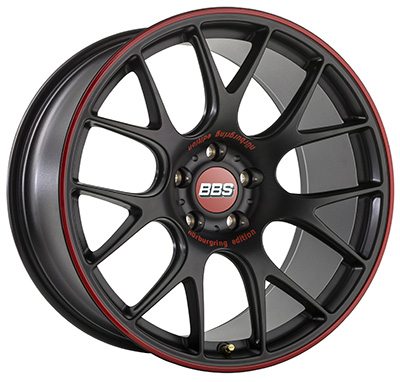 BBS is launching a Porsche-specific 20-inch, centre lock version of its CH-R design. The "Nürburgring Edition" of the CH-R wheel will be available in 18, 19 and 20-inch sizes for a wide variety of vehicles.
According to the company, form follows function and the fact that BBS has been involved in motorsport for years is reflected in the purposeful design of this wheel, which is underlined by the word 'Motorsport' laser engraved into its centre hub.
The Porsche 991 GT3 specific centre lock version in 9.0J x 20 inch (front) and 12.0J x 20 inch (rear) sizes is offered exclusively in matt black with laser engraving, with the stainless steel rim protector as an optional extra.
While BBS created this flow-formed, weight optimised wheel in response to the strong demand from owners who regularly use their 991 GT3 on track, it is also suitable for use with winter tyres. The price of an individual wheel is 650 Euro (RRP including sales tax).
The legendary North Loop (Nordschleife) of the Nürburgring, also known as the 'Green Hell' is considered the mother of all racetracks. Here, DTM racecars, classic cars, trucks, and motorcycles regularly compete, with both pros and amateurs behind the wheel. The 'Nürburgring Edition' of the CH-R wheel is designed to deliver motorsport level features such as low weight, high strength and good brake cooling, all aimed at enhanced driving dynamics. The 'Nürburgring Edition' features laser engraving and optional rim protector in BBS red.
Offered in 18, 19 and 20-inch diameters for all popular applications, the CH-R 'Nürburgring Edition' is a product of the co-operative venture between BBS and Nürburgring GmbH, and is only made to order.