Valentine's survey shows love and harmony among UK drivers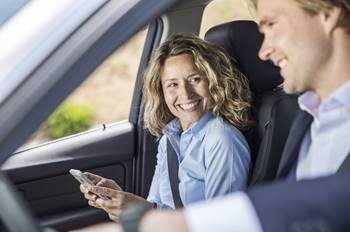 New consumer research from LeasePlan UK, part of the world's largest vehicle management group, shows that Britain is a nation of trusting lovers, with over half of motorists (58 per cent) saying they would put their full trust in their partner to drive their car compared to just 7 per cent who said they would only trust themselves.
And, if you thought we Brits were a nation of fault-finding back-seat drivers, you might be surprised to hear that almost half (48 per cent) of those motorists surveyed say they never nag their other half whilst driving, with older drivers finding even less fault in their loved ones as 65 per cent of over 55s say they never bicker with their partner whilst driving.
It's not just bickering that takes a back seat for older drivers; only 40 per cent of those surveyed over the age of 55 claimed they were a better driver than their partner, compared with more than half (59 per cent) of 25-34 year-olds, who would rather put themselves behind the wheel.
The LeasePlan data gleaned from 1002 respondents across the UK, did suggest that some of us still like to 'nag' with more than one-in-five (25 per cent) of those questioned hung-up about their partner driving too fast and 16 per cent getting irate over bad parking.
Unsurprisingly, men are more likely to consider themselves as the better driver (64 per cent) Beeping the car horn, road rage and not reading road signs were also highlighted as reasons for berating their partner's driving ability.
Matthew Walters, head of consultancy services, LeasePlan UK commented: "It's encouraging to see that the UK is a nation of trusting drivers. It's important to feel comfortable in the car with whoever it is that's taken the driving seat. Distractions whilst driving can be a cause of road traffic accidents, so it's always important to try and keep a level head, keeping bickering to a minimum and save your spats for outside the car."