January UK car registrations the best since 2005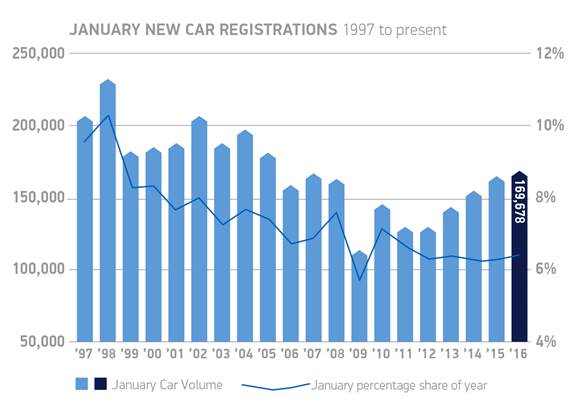 The UK new car market saw registrations climb 2.9 per cent year-on-year in January to reach an 11-year high of 169,678 units. By comparison January 2005 saw 181,474 new cars registered.
Private and business buyers drove this growth with demand for new cars up by 8.2 per cent to 73,061 and 5.0 per cent to 6,716 units respectively, while the fleet sector declined slightly by 1.1 per cent to 89,901. The month marks the highest number of new cars registered to private buyers in January in 12 years.
Alternative-fuel vehicles also grew in popularity – and market share – with registrations up by 32.1 per cent on January 2015, to account for a record 3.6 per cent of registrations. Petrol hybrids showed the largest growth – up 44.1 per cent to 3,783 cars, while plug-in hybrid demand grew 32.3 per cent to 1,592 vehicles and pure electric cars enjoyed an uplift of 14.1 per cent to 584 units. Demand for diesel, which just retained the majority market share, remained stable, up 0.6 per cent, while petrol registrations grew 3.7 per cent.
Mike Hawes, SMMT chief executive, said: "January's solid performance puts the new car sector in a good position to start the year. Providing consumer confidence remains strong, we expect a more stable 12 months ahead, broadly similar to 2015 which was, of course, a record year.".
Meanwhile Steve Jackson, chief car editor at Glass's, said: "Consumer demand has broadly driven the increase with a number of new models available. This, combined with low interest rates and creative finance campaigns with PCP, have helped drive this record number. Fleet however has slipped slightly by 1.1 per cent on the same period last year…Glass's continue to watch the market closely, forecasting a 3 per cent growth, and have also witnessed larger numbers of used vehicles in the wholesale market from dealers and captive finance companies as well as fleet vendors compared to the same period 2015."
"It is extremely positive to see that the car market in January has continued its upward trend – making it the best month for new car registrations since 2005", said Sue Robinson, director of the National Franchised Dealers Association (NFDA), adding: "Consumer confidence continued to grow as the economy becomes more robust, and retail customers feel secure enough to commit to buying cars. This is helped by the competitive offers made available by the manufacturer and a more disposable income due to higher levels of employment."