Bridgestone inside and out on Toyota's new Prius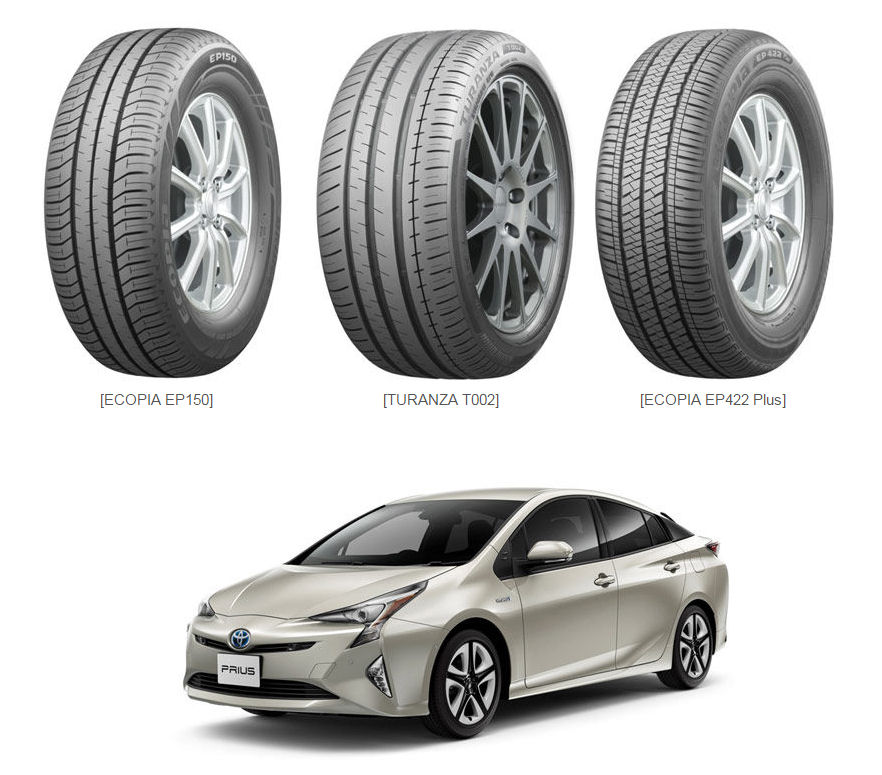 Bridgestone products are to be found in abundance on the new Toyota Prius, and not just fitted to the wheels. In addition to wearing Ecopia and Turanza tyres as original equipment, the latest-generation Toyota hybrid will come with Bridgestone seat pads and anti-vibration equipment.
The new Prius was introduced in Japan on 12 December 2015 and will soon be launched in Europe and other markets. Bridgestone reports that models sold in Europe will be offered the Ecopia EP150 in size 195/65R15 91H, while cars earmarked for Japan will receive the tyre in a size 195/65R15 91S fitment. Both European and Japanese market models will be offered the Turanza T002 in size 215/45R17 87W. Customers in the USA will have a choice of two Ecopia EP422 plus fitments, sizes 195/65R15 89S and 215/45R17 87V.
Although Bridgestone has supplied original equipment tyres to the Prius since the first series debuted in Japan in the late 1990s (the NHW10 model came with a 165/65 R15 version of the Bridgestone B391), the new generation Prius is the first to utilise Bridgestone seat pads. Bridgestone reports that it worked to optimise the rigidity and damping properties of the seat pad's cell structure, as well as their breathability. In doing so, the company believes it secured the optimal level of support and vibration absorption, and this allows the 2016 Prius to deliver a comfortable ride for backseat passengers. Furthermore, the lighter construction of the seat pads contributes to fuel efficiency.
Bridgestone anti-vibration rubber is used for the engine mounts that connect the car's power source connects with the vehicle frame. Not only do engine mounts support the engine, they also absorb the vibrations generated by the engine, reducing vibrations of the vehicle frame and vibrations felt inside the vehicle. Front, rear, and vertical flexibility are necessary in order to absorb vibrations from the engine, as well as vibrations caused by uneven road surface and acceleration and deceleration. By laterally installing a column-shaped rubber in the centre of the part, Bridgestone succeeded in increasing front, rear, and vertical flexibility. Through this technological achievement, Bridgestone says the anti-vibration rubber part can improve driving comfort while contributing to smooth handling during cornering.
Depending on vehicle specification and regional market, Prius buyers can choose between four different Bridgestone tyre specifications