Yokohama HPT to support young UK competitors across motorsport disciplines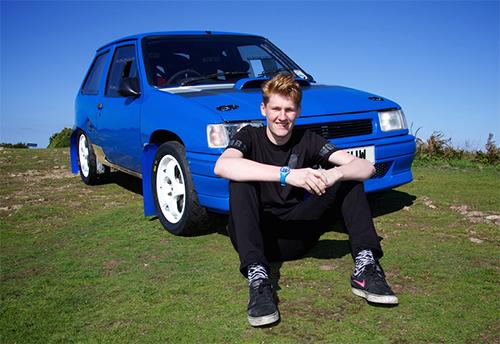 Yokohama HPT, the Japanese tyre manufacturer's UK distributor, will continue to support young drivers and their progression through motorsport in the UK in 2016. YHPT will continue to support starter forms of motorsport for young drivers as well as a route to allow them to progress through the ranks in the three main disciplines: circuit racing, rallying and rallycross.
Previous examples of success in circuit racing are George Russell and Will Palmer, both of whom are recipients of the coveted McLaren Autosport BRDC Award and who started their car racing careers on Yokohama tyres, in the BRDC Formula 4 Championship.
As a result of winning the award, each gets to test a Formula One car as well as receiving a cash prize to further their careers on the circuit. Russell was the youngest-ever recipient of the Award, at just 16 years of age.
In 2016, Yokohama will remain as control tyre for the Junior Saloon Car Championship. Designed to bridge the gap between karts and saloon cars, the JSCC uses Citroen Saxos running on Yokohama ADVAN A021R tyres through PolleySport and will see double-header races at nine circuits around the UK.
In rallying, the Formula 1000 Junior championship also allows 14 year-old drivers to begin their career on single-venue rallies in one-litre cars, all equipped with Yokohama A048 tyres through PEC Tyres. The itineraries allow the F1000 field to drive each stage without the pressures of the higher speeds and greater experience of the main field and the all-asphalt rallies are an excellent way for drivers to begin in rallying.
For drivers who then graduate from F1000, Yokohama also supports the Next Big Step, which aims to bring drivers on by supporting a programme of gravel forest rallies to help improve not only their driving skills but begin the process of developing their own pace note system, for example.
For 2016, The Next Big Step will support Ed Fossey, who graduates from F1000 and he will be competing in the BTRDA Mixed Surface series, for both tarmac and gravel in a 1400cc Vauxhall Nova. He will gain experience of both Yokohama's gravel ADVAN A035 tyre and the A006T or the A048 tarmac tyre.
Former graduate Aaron McClure will also return to the BTRDA series for the second year.
In Rallycross, Yokohama will again be used as control tyres for the Swift Sport category of the MSA British Rallycross Championship, in both the Junior and Senior classes. Again, this allows young drivers to begin their rallycross competition in one of Europe's most prolific rallycross series, before graduating to the Senior category of swift.
In addition, the RX150 buggies, which have proved such a hit and featured in other events, such as the annual Race of Champions at the Olympic Stadium and the Gymkhana GRiD tour at Santa Pod, will also continue to use Yokohama tyres.
Commenting, head of motorsport at YHPT Ltd, Mark Evans, said:  "As we have seen so many times before, champions begin their motorsport careers at a young age and I am delighted that Yokohama is able to support drivers as they take their first steps on the motorsport ladder in three key disciplines.
"Our work in circuit racing has already paid dividends – both Will Palmer and George Russell made their debuts in car racing on Yokohama tyres and went on to receive the coveted McLaren Autosport BRDC Award, which itself in 2015 featured assessment of the drivers in the Formula 2 car fitted with Yokohama ADVAN racing tyres.
"In rallying, the Formula 1000 series is incredibly popular and hugely competitive, producing some very gifted drivers. I am delighted that, in partnership with The Next Big Step, we are able to support graduates from that program up to the BTRDA series, which is one of the UK's most prestigious rally championships, as we did with Aaron McClure in 2015.
"Rallycross has always been a successful area for Yokohama and again, we are the official tyres supplier for the entry level category, the Suzuki Swift Junior as well as the Senior class and the RX Racing buggies, which always prove popular for competitors and fans alike."