Yokohama control tyre for further UK, Eire motorsport series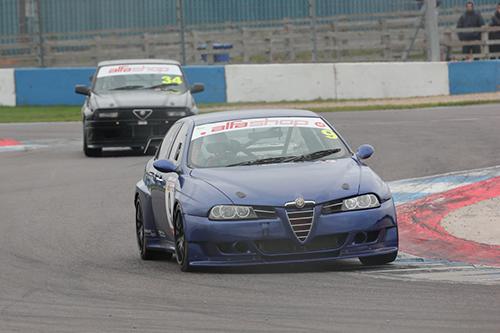 The UK distributor for the Yokohama tyre brand has added several new motorsport series to its portfolio for 2016. In addition to maintaining its extensive range of championships using Yokohama as control tyre, it will add several key, high profile series in the UK and Eire.
New additions to the Yokohama portfolio of one-make series include the Alfashop Alfa Romeo Championship, which runs as part of the BRSCC package. The three-class structure sees a wide range of models from the iconic Italian manufacturer as well as huge grids at circuits across the UK. Yokohama's involvement as control tyre will be managed by retailer Black 'n' Rounds.
Another series to make the move to Yokohama tyres for 2016 is the K-Tec Clio 182 Championship, which runs within the 750 Motor Club programme. This series is based on identical models of the Mk2 Clio 182 and is designed to help drivers progress in a cost-effective manner and will be supported by PolleySport.
In the Republic of Ireland, after a successful season on Yokohama and running as a category of the Irish Touring Car Championship, the SEAT Supercup Ireland will run as a distinct series in 2016. These 'Supercopa' cars will all use Yokohama Advan A005 and A006 dry slick and wet tyres respectively. The 12-round series in 2016 will take in three venues in Ireland, including the Mondello Park facility.
In fact, the Japanese manufacturer's relationship with Mondello Park will become closer in 2016, with two series running exclusively at the circuit also adopting Yokohama as control tyre. The existing Fiesta Championship as well as the new-for-2016 Fiesta ST Championship will both run on Yokohama Advan A048 throughout 2016 and 2017.
Both the SEAT Supercup Ireland and the two Fiesta series will be supported by Yokohama's Republic of Ireland distributor, Murray Motorsport.
"I am very excited looking ahead to the 2016 motorsport season," said Mark Evans, head of motorsport at YHPT Ltd. "The adoption of the new championships to complement our existing series' is a fantastic testament to the image of our tyres, their performance and the support offered by our dealers.
"It looks as if we will have a very busy year in Ireland, with the SEAT Supercup Ireland becoming a standalone series after its pilot season last year," Evans added. "Along with the two classes of the Fiesta series at Mondello Park, I think Murray Motorsport is going to be very busy!"