Liverpool firm to supply diesel engine cleaner to RAC fleet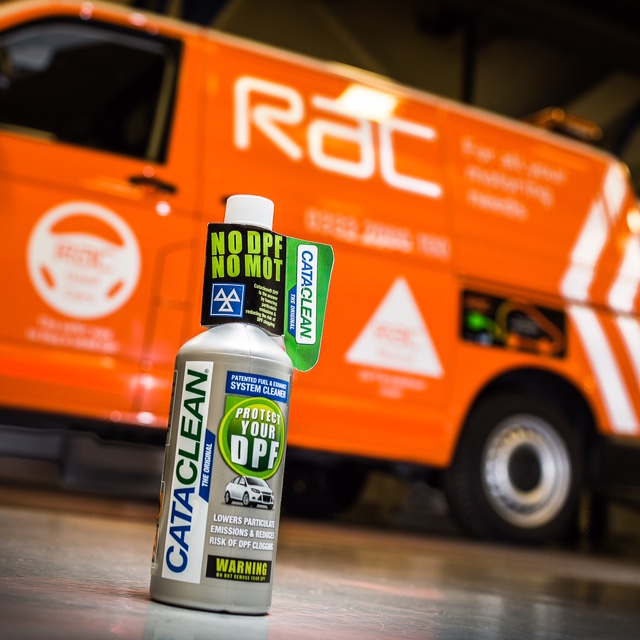 Liverpool-based engine care specialist Cataclean has finalised a major agreement with the RAC's fleet of UK patrol vehicles following a limited trial, conducted via Cataclean's distribution partner Euro Car Parts on 40 vehicles. As a result, the RAC's 1,400 vehicles will carry one of the company's flagship products, Cataclean Diesel, which is primarily pitched as a solution to clogged diesel particulate filters, but can be used for petrol and hybrid engines too. Cataclean's director of sales William Jones said the product was selected following a rise in the number of RAC call-outs to vehicles with clogged diesel particulate filters (DPFs).
"The RAC receives regular roadside call-outs from drivers who have noticed dashboard warning lights flick on after DPFs have clogged," he said. "Roadside technicians can usually clear the blockage via a manual regeneration. However, Cataclean can reduce the harmful build-up even further – extending the period before which another regeneration is required.
"Essentially, the product will enhance the work that RAC technicians carry out at the roadside, while motorists will notice a direct benefit in their vehicle performance and enjoy greater peace of mind. It's a win-win situation."
The supplier states that Cataclean Diesel is designed to meet the demands of modern diesel engines, reducing harmful particulate emissions and the risk of DPF clogging. This should protect and extend the lives of a vehicle's DPF or catalytic converter.
"Like the rest of the Cataclean range, Cataclean Diesel can help to reduce emissions, improve engine performance, enhance fuel economy and reduce carbon build-ups on oxygen sensors," said Cataclean's corporate development director Graham Fraser. "It is particularly effective in diesel vehicles used primarily in urban environments and stop/start driving profiles.
"When Cataclean burns with fuel it generates a vapour that dissolves carbon – enabling it to help remove carbon, including particulates, from the entire exhaust system," he said. "In most cases when motorists use Cataclean they can physically feel a difference in terms of the vehicle's responsiveness. Many motorists see a noticeable improvement in MPG after a Cataclean treatment too.
"Cataclean is readily available via the RAC Shop (www.racshop.co.uk) and also on the high street and through most good motor factors. It simply requires the user to pour the contents into the fuel tank. Its value adding, the benefits are tangible and it's extremely easy and safe to use. We are delighted to be working with the RAC and look forward to developing our relationship."
He also added that the product is made in the UK.
RAC technical director Phil Ryan said: "With some 11 million diesel cars on the road it is not surprising that our patrols are increasingly encountering problems with diesel particulate filters. While they deal with these very effectively by using our highly sophisticated RAC Scan diagnostic tool to put the DPF into regeneration mode, being able to offer Cataclean Diesel to members is a way of avoiding having another DPF problem in the future. It can only enhance the customer service experience, especially as replacing a DPF can be very expensive.
"The RAC has long known the benefits of Cataclean products which is why we stock RAC Cataclean in our online shop. Equipping our patrols with Cataclean Diesel therefore seemed like a natural extension of our existing relationship as it helps to solve a frustrating problem for motorists."