Harper Adams data: Michelin Ultraflex tyres lead to 4% yield gain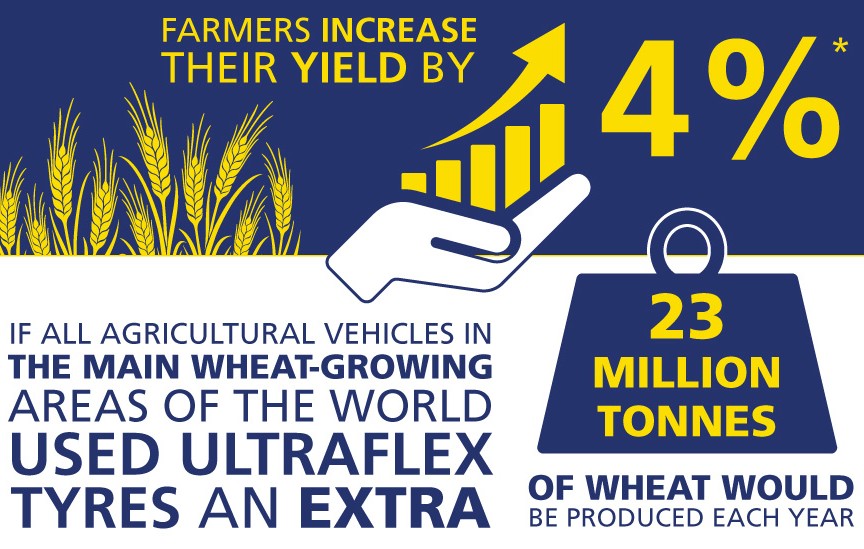 Farmers fitting Michelin Ultraflex Technology tyres to their agricultural machinery can benefit from a 4 per cent more yield. That's the view of research led by Harper Adams University, which set out to measure the effects of Michelin Ultraflex Technology tyres on annual wheat yields, specifically looking at productivity, environmentally-friendly agriculture and soil protection.
Extrapolated out, on a global scale, if all agricultural vehicles in the main wheat-growing areas of the World – including the 27 members of the European Union, the United States, South America and China – used Ultraflex Technology tyres, 23 million additional tonnes of wheat would be produced each year.
According to the US Department of Agriculture, 23 million tonnes is the quantity of wheat that is needed to feed the entire population of the United States – 319 million people – for a whole year. 23 million tonnes of wheat is also equivalent to Germany's annual wheat production.
The logic is that Michelin's Ultraflex Technology allows farmers to run their agricultural machinery at lower than standard tyre pressures, protecting the health of the soil by reducing the incidence of rut formation and ground compaction. As a result, air and water can penetrate the earth more freely, leading to improved soil conditions for maximum crop response.
Mike Lawton, commercial director of Michelin's agricultural tyre division, explains: "With a larger footprint than conventional technology tyres, Ultraflex Technology spreads the weight of the machine over a larger ground area. Increasing contact with the ground improves traction and decreases wheel slippage, which in turn allows farmers to spend less time in the field; improving productivity and saving fuel. We manufacture Ultraflex Technology tyres with reinforced sidewalls and special rubber compounds to keep the tyres strong, even at low pressures."