Cicero named CEO of Triangle Tire USA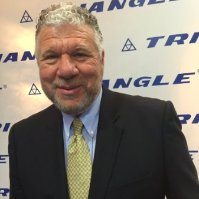 Manny Cicero, who previously held the post of president of Alliance Tire Americas, has been named chief executive officer of Triangle Tire USA. His appointment follows last November's official opening of the Chinese tyre maker's local operation, Triangle Tire United States of America LLC.
"With his considerable experience in all segments of the tyre industry and proven management skills, we consider Manny to be the ideal choice to head our efforts in the all-important US tyre market," said Triangle Group chairman Ding Yuhua. "We look forward to establishing strategic, long-term relationships with key US tyre distributors and dealers, working closely with them to provide high-quality, technologically advanced tyres to American consumers and business owners."
Cicero commented: "I'm excited about joining Triangle at this critical juncture in the company's history as it emerges as a powerful global player. The company's R&D capabilities, highly-advanced, automated manufacturing facilities and global team of tyre industry leaders are truly impressive and make Triangle a formidable force."
Manny Cicero's tyre industry career began with Michelin in 1978. He joined Bridgestone in 1984, becoming president of the off road tyre division at Bridgestone/Firestone North American Tire in 1999 before leaving the company in 2005 to take on the role of CEO at Denman Tire. He joined Alliance Tire Americas in 2007 and was employed there until mid-2014.
Triangle Tire USA is headquartered in Nashville, Tennessee and is tasked with providing the "necessary infrastructure" to drive the growth of Triangle tyre sales in the local market. At the office's ribbon cutting ceremony, chairman Ding said the opening of a US operation "marks a key milestone" in the Triangle group's journey to globalisation, adding that the operation "will set the foundations for future growth and establish the Triangle brand as a major player within the tyre industry."
Triangle Tire has big plans for the US and North American markets. The region is a focus area for the tyre maker, and when Tyres & Accessories spoke with Triangle Tyre chief executive officer Pierre Cohade last July, he mentioned plans to expand R&D activities in the US. "About four years ago we opened a small research centre in Akron, Ohio," commented Cohade. "This is going to be quickly and significantly expanded." At the time the indicated that Triangle would make major R&D project announcements in the following six to 12 months.
Cohade also spoke of Triangle's aspirations as an original equipment passenger car tyre supplier and said that while it would begin these activities in China, the company would "quickly build capability to supply in North America (and in Europe)" within three to five years, provided a manufacturing facility outside China is set up to accommodate this. He said that Triangle would set up a plant to supply North America and other regions of interest, however did not specify where this factory would be located.