Chicago Pneumatic adds wheel dollies, presses to workshop equipment range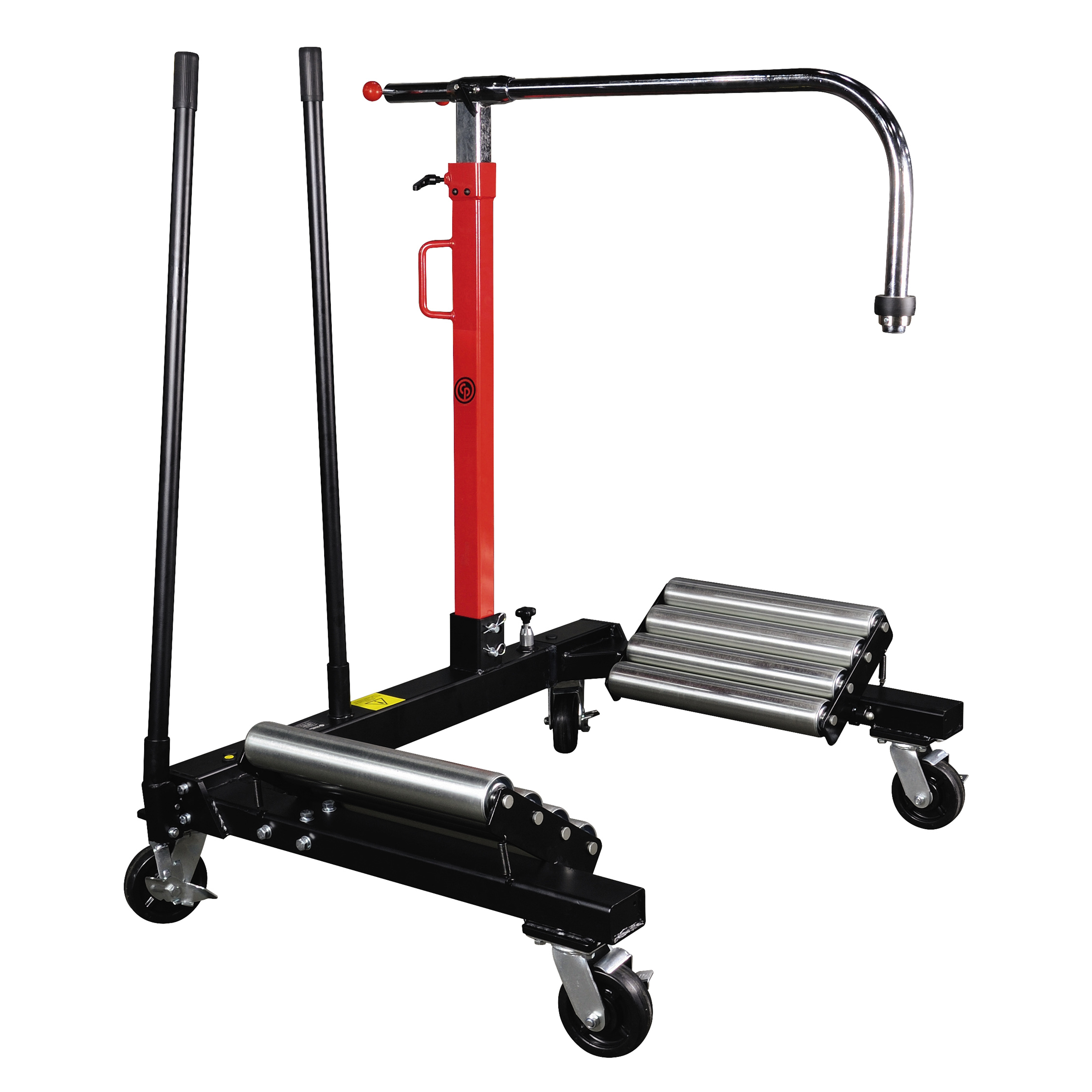 Chicago Pneumatic has added new wheel dollies and rugged workshop presses to its line of workshop equipment for the professional automotive and heavy fleet maintenance industries. The two new wheel dollies for heavy vehicle tyre changing and maintenance have lifting capacities of up to 1543 lbs (700kg) and 1.2 tons and are a robust assembly aid for trucks, buses and tractors.
The CP87120 dolly has two handles for faster, easier manoeuvring. Its width is adjustable to accept wheel diameters from 39.4 to 78.78 inches (1000 – 2200mm). A fast turnable wheel attachment ensures the wheels are balanced safely, while eight large rollers with automatically adjustable angles ease the handling of tyres with deep treads. The dollies can be moved into position easily, whether in or outside the workshop, thanks to four large swivel wheels with brakes and they are robust with a high quality steel frame for intensive use.
The CP8770 twin-wheel dolly with a 1543 lbs (700 kg) lifting capacity is suitable for maintenance of wheel diameters 21.4 – 50.5 in (545 – 1280 mm) and features a chain attachment to provide safe wheel balancing during removal and transport. Both wheel dollies are EC and ASME certified, and include a double action hydraulic piston smartly positioned on the side to enable easy access to the operating area, making the job easier and quicker.
Chicago Pneumatic's two new air-hydraulic workshop presses bring 75 and 100 tons of pressure to the workshop, allowing users to bend and form metal to the desired shape and size easily. The company's press range now includes six models for workshop operations on light and heavy vehicles. The two step stroke system provides high precision and the large gauge (in short and metric tons) gives easy and fast pressure control. The sturdy steel and iron frame improves durability.
The presses also include many ergonomic features which contribute to the comfort of use and versatility of the equipment. For example, they have a movable cylinder, a dedicated winch to easily adjust the bench, a set of eight punches, and v-blocks with high capacity piston. The presses are EC and ASME certified, and include an additional adjustable safety cage for ASME markets.
"At Chicago Pneumatic we understand the specific need of maintaining and repairing car and truck fleets and we have expanded our range to meet the needs of today's heavy duty vehicles," says Luis Clement, vice president Chicago Pneumatic Tools. "With the development of our workshop equipment range, we can now offer a full one-stop-shop solution for the vehicle service industry with high quality air tools, dedicated accessories as well as a bigger range of workshop equipment, enabling users to do their job profitably while providing a safer work environment."
Other equipment in the range include jack stands, bottle and floor jacks, air-hydraulic jacks. All equipment is fully certified and meets the standards of the American National Standards Institute (ANSI). Users can be assured the equipment they are using adheres to safety standards developed for operational safety in the workplace.