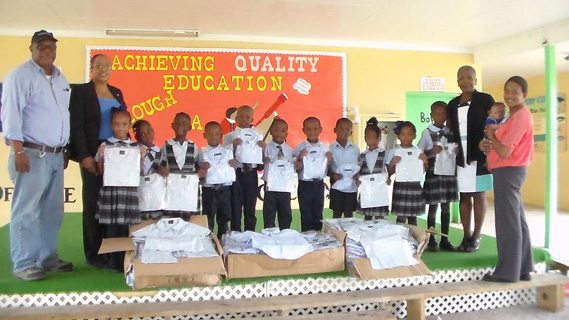 Children in Abaco show off their new shirts
The Zenises Foundation and ZC Rubber have shared details of separate projects undertaken with schools in Africa and the Caribbean.
Some 239 million people in sub-Saharan Africa are hungry, observes the Zenises Foundation. In South Africa, one in four does not have food security in a country where malnutrition is still a major underlying cause of death in children under the age of five. To help raise awareness of global hunger and support communities close to its South African business, the Zenises Foundation started working with Please (Products Leading Economic and Social Empowerment) in November 2015 to undertake a 'Pot Drop' at the Kiddies' Paradise School in Johannesburg.
These 65 children will be provided with a nutritious breakfast every school day for the next 12 months. Zenises worked with Please to develop a recipe where the required nutrients for the whole day are provided to the child in one tasty porridge breakfast.
Zenises says it believes business can be a platform for economic and social change through sustainable and community-driven initiatives and hopes the local actions it encourages and supports will help to support future generations.
Zhongce Rubber Group, also known as ZC Rubber, has donated more than 1,000 uniform shirts for the students in Central Abaco Primary School (CAPS) on the Bahamas island of Abaco, along with its customer Abaco Battery and Tyre, local distributor of the Goodride tyre brand.
ZC Rubber relates that it was grateful for the opportunity to present the shirts to the local school. "Comfortable and practical designed shirts are the basic needs of school children in their daily lives. And the smile on the faces of the beneficiaries clearly showed that the company's effort is valuable, which is the motivation of its charity road around the world."
Michael Jones, operation manager of Abaco Battery and Tyre/Shell Station in Dundas Town, said she recognises that it is a difficult time for some parents, and therefore Abaco Battery and Tyre and ZC Rubber sought to do something different that would be most helpful to parents. She added that their objective is to also touch base with the students who they are helping and providing such beneficial items for. "So we strayed away this year from the backpacks and books and all that, and we decided to do shirts this year."
ZC Rubber said it would "continue to walk in the way of perfect charity." In addition to providing uniform shirts to CAPS, shirts were sent to the students at Treasure Cay Primary School. The company also shares that it provides food and school equipment to children in Cambodia.
Category: International News