Winter tyres? Lexus takes a new approach to driving on ice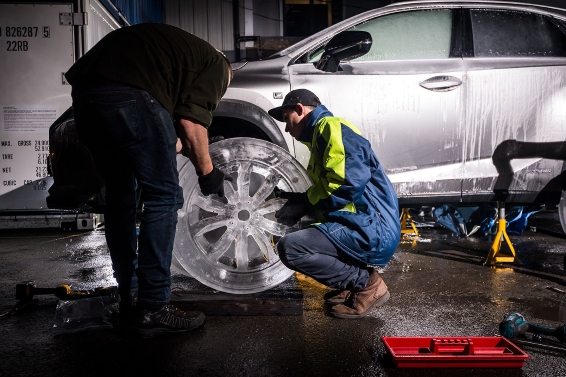 What happens when a vehicle manufacturer replaces alloy and rubber with ice? Wonder no longer – a team of UK ice sculpture specialists was commissioned by Lexus to answer this question by fitting a Lexus NX with a unique set of wheels and tyres made from frozen water.
After three months of research, design and testing, the finished wheels were fitted to the NX. The crossover was then deep-frozen, stored for five days at -30°C before being driven off down a London road. Lexus notes that the NX started first time after emerging from its frosty hibernation.
The project was undertaken by London-based business Hamilton Ice Sculptors. For the Lexus commission – the first of its kind – genuine NX wheels and tyres were laser scanned and replicated using computer design and numerical control techniques. As optically perfect sculpted ice isn't intrinsically strong enough to bear the loads sustained in this type of project, Hamilton Ice Sculptors decided to create two sets of ice tyres: one 'stunt' set machined and sculpted entirely from ice, and an engineered set that could be physically bolted to the NX and driven upon. The engineered wheels incorporate a load-bearing element made from acrylic, which was then sandwiched between the sculpted ice wheel and tyre faces.
Four sculptors worked for 36 hours to produce each wheel. The millimetre-perfect finish was achieved with hand-crafting, using Japanese steel chisels and shaping tools. Even the tread patterns on the tyres were faithfully reproduced. The ice was made from softened water taken from a moving flow to ensure it was perfectly clear when taken from the freezer.
Speaking about the overall challenge of the ice-tyre NX, sculptor Jack Hackney said: "Logistically and technically, it's up there with one of the hardest things I've had to do."