New website for Fast Parts Wales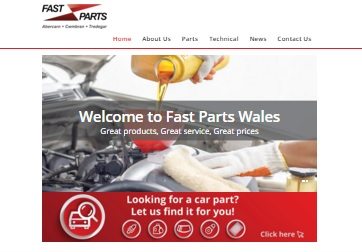 Automotive parts distributor, Fast Parts Wales, has updated its brand by designing a clean, professional website for its customers to visit and access the most recent company information.
The company says that the new website has a brighter and more positive feel to it as the dark exterior has been removed and replaced by a white background. The aesthetically pleasing design is easier for customers to navigate as the layout has been specially created to be straightforward to use.
Regular updates will be posted to the website so that Fast Parts can communicate and engage more effectively with its network of independent garages, as well as allowing customers to keep up-to-date with the latest company news, including the parts distributor's activity with children's charity, Ty Hafan.
The new website also promotes the various brands in the Fast Parts product range clearly, providing a useful insight for customers. And, with the inclusion of regular technical information under its Doctor Dai brand, independent garages have access to a valuable information hub.
Nathan Travis, Fast Parts general manager, said: "We are delighted to launch our new website. We have listened to our customers and have created the most accessible site for them, benefitting a variety of their needs, from keeping up-to-date with company news, to exploring the product range in a simple, step-by-step process. By continuing to invest in the service we provide to existing and new customers, we are able to promote the Fast Parts brand in the most effective way possible."
Fast Parts Wales started trading more than 25 years ago. The company is preparing for a very busy winter period and is increasing stocks of a number of relevant products, including wiper blades, anti-freeze, screenwash, and de-icer.