Sumitomo Rubber manufactures 100 millionth tyre in China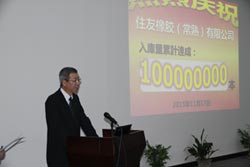 Tyre production at Sumitomo Rubber's factory in China went into nine-digits on 14 November with the production of the one hundredth million tyre at the Sumitomo Rubber (Changshu) Co., Ltd.
Since production began in April 2004, the scale of production at the Changshu factory has expanded steadily in order to accommodate domestic and export market demand for tyres produced there. A ceremony was held at the plant on 17 November to commemorate the milestone. Some 40 people were in attendance, including Sumitomo Rubber (Changshu) Co., Ltd chief executive officer Naoki Yamada and executive director Yutaka Kuroda.
During his speech at the ceremony, Kuroda remarked: The Chinese market is one of the most important markets for the Sumitomo Rubber Group, as it holds the key to our future growth. I hope that Changshu Factory will continue to provide high-performance, high-quality tyres that meet the needs of our customers while striving to earn a place among the best tyre factories in the world."