Shenzhou Tire breaks ground on phase two of £1 billion tyre factory project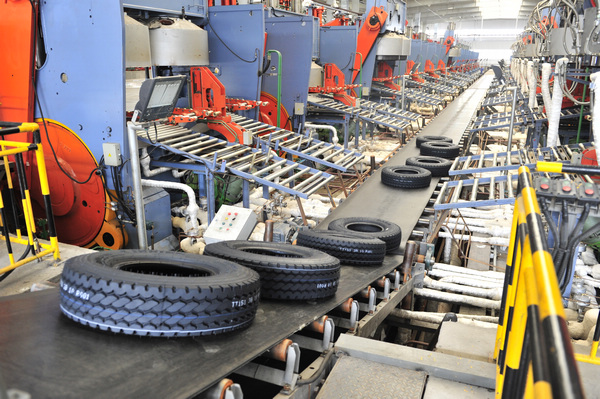 Ningxia Shenzhou Tire Co. Ltd. has broken ground on a new tyre plant in the city of Shizuishan in Ningxia Province, China. Company representatives have been quoted as saying that the production capacity forms the second phase of £1 billion project, the output of which is destined for high-end markets in the Europe and the USA.
The scale of the project is huge, with the goal to produce 10 million all-steel radial tyres, 10 million of semi-steel radial tyres, and 100,000 aviation tyres. Therefore, according to Shenzhou, the overall project is designed to put over 20.1 million units of annual capacity into operation. The tyre manufacturing project, which began in 2013, covers an area of about 2216 acres, with a building area of 1.16 million square metres – all at a total investment of 10.5 billion yuan (£1.05 billion; US$1.65 billion). Various news reports suggest that the latest developments are designed to add 5 million truck tyres of production and represent phase two of the wider project. Now that the ground has been broken on phase two, construction is expected to be completed by the end of 2016 and go into operation in 2017. News reports suggest the plan will create some 2,000 jobs and generate almost 15 billion yuanm (£1.5 billion; $950 million) annually.
Just under two years after phase one began construction in June 2013, this production line made its first tyre in May 2015. Phase one brought with it 2.6 million tyres a year of radial truck tyre capacity, according to Shenzhou Tire.
Looking forward, there is even talk of a third phase, meaning an additional 2.4 million units of truck radial capacity, 10 million units of passenger car tyres and 100,000 units of aircraft tyres annually. Furthermore, there is the suggestion that this phase may be constructed outside China to side-step anti-Chinese US import tariffs.
Why Ningxia Province?
While much of the Chinese tyre industry is focused on China's increasingly populous Eastern seaboard, road transport serves as the main mode of transport in China's western regions. Here, traffic volumes are growing in line with industrial and commercial development.
However, as Shenzhou Tire points out, "there are only a few tyre manufacturers in the western regions with low production and less product variety." There is also the inference that those that are producing in western China are not always producing tyres according to the latest radial technology, with company literature explaining the rationale for the new factory thus: "High-performance radial tyres [are] much better than bias tyres in terms of safety, comfort, energy-saving, environmental protection [and] are advocated and encouraged by the industrial policy of our government." Therefore, company representatives added "the project has considerable regional market prospects", reiterating the market's domestic and regional market focus.
At this point it is worth understanding a little more of the background of Shenzhou Tire and its parent company Ningxia Dadi Circular Development Corp. Ltd. Founded in 2002, Ningxia Dadi Circular Development Corp. Ltd. is the parent company of Shenzhou Tire and an influential conglomerate. Dadi Circular is located at Shizuishan Eco-Economic Zone, 60 kilometres north of Yinchuan city in the Ningxia Hui Autonomous Region. Indeed, the corporation is amongst the top 500 chemical companies in China's and the top 100 enterprises of Ningxia.
Other group companies include: Ningxia Kunwei Polymer Materials Co., Ltd.; Ningxia Kun Hui Gasification Co., Ltd.; Ningxia Tianrui Thermal Production & Supply Co., Ltd.; Ningxia Kun Yuan Coal Industry Co., Ltd.; and Ningxia Dadi Wuzhou Zhongjie International Trade Co., Ltd.
The point is that Dadi Circular aims to create a circular economy and "comprehensive utilization of resources" within the group, making each member more efficient. For example, the conglomerate points out that its cogeneration power plant and its steel cord plant, provided by Ningxia land Circulation & Development Co., Ltd., can provide steam, electricity, sewage treatment, and steel cord for tyre production. With steel cord – for example – being a particularly important constituent part of tyres, having in-group production obviously has a positive impact on tyre manufacturing costs.
Furthermore, back in May 2015, PetroChina, which itself one of the largest suppliers of synthetic rubber, announced that on 7 April the firm became the successful bidder to supply 600 tonnes of synthetic rubber to Shenzhou Tire per month, noting that this came shortly after the initiation of phase one.