Vacu-Lug ramps up production to match Logistik tyre demand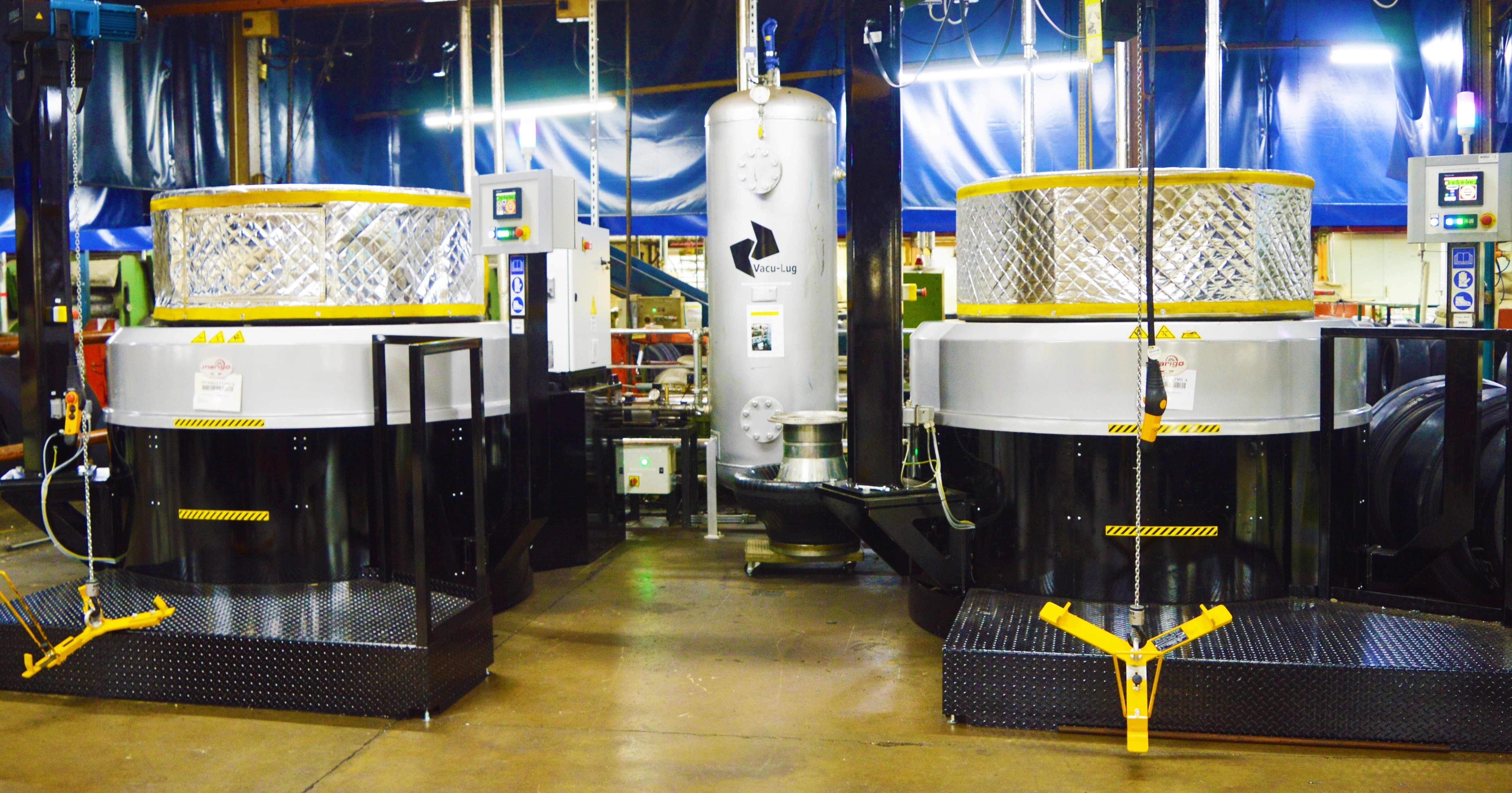 Grantham, Lincolnshire-based Vacu-Lug reports that it has ramped up retread production in light of increased demand for its Logistik range of tyres. Vacu-Lug, launched its Logistik 295/80R22.5 commercial vehicle drive axle tyre in November 2014. In early 2015, the new Logistik Drive 315/70R22.5 followed and is reportedly already proving popular across the commercial vehicle sector. The demand is such that a second tyre press has recently been installed.
"Underpinning the success of the Logistik tyre range is our unique 12–segment tyre press," explains Vacu-Lug plant manager, Brian Barron. "We started with one but soon needed to bring a further press online. Clearly, our strategy of increasing the number of segments from 6 to 12 has helped in the early success of the new tyre."
Inspired  by the latest production techniques and technologies used in aircraft and high-performance tyres, the 12 segment press design enables Vacu-Lug to produce a tyre with a significant increase in 'true roundness' which, according to Brian Barron, means that  every mm of tread depth throughout the tyres' rolling circumference is available and thus a longer tyre life is achieved.
Additionally, the new press is also a substantial upgrade in terms of curing pressure. Whereas the traditional curing pressure is +/-200psi, the new press curing pressure is 300psi.
"The theory is that there is a level of micro-porosity in a cured rubber compound and increasing the curing pressure eliminates that completely," added Barron. "More pressure equals more consolidation and it means that we can maximise the tread compound performance, not only in terms of kilometres, but also in terms of fuel efficiency."
Vacu-Lug also attributes the durability of its Logistik tyre to the high quality of compounds upon which the manufacturing formula is based.
"Working with world-leading custom compounders," continues Barron, "we have developed two evolution compound blends to enhance the products' performance further. The first maintains the already-proven km potential whilst focusing on minimising rolling resistance and optimising fuel efficiency. The second works the other way to maintain the low rolling resistance whilst focusing on maximising km potential."
New super-single and new compounds coming
Extensive trials are underway with new-evolution compounds, which have seen the Logistik Drive outperform the kilometre potential of previous Vacu-Lug tyres. Furthermore, both the 295/80 and 315/70 have been independently tested to verify these results.
There are also plans to increase the breadth of the Vacu-Lug Logistick Supersingle range, as Brian Barron concludes: "We are now working on a second generation of the Logistik Supersingle tyre and to facilitate production we will in due course be adding a 3rd 12 segment press."
Commenting from the operators' perspective, sales director Dave Alsop added: "We are extremely pleased with the results and positive customer feedback relating to the 315/70. This tyre size is becoming increasingly used within logistics fleets and operators are seeing a significant reduction in running costs, not least due to the improvements in tyre life across the Logistik range."
Following its launch at the IAA Show in Hannover in October 2014, at the end of June Vacu-Lug launched the latest Westlake new truck tyre range in the UK. Vacu-Lug is the sole UK distributor for all Westlake truck and bus radial tyres. According to the company, the Westlake range offers a choice of 17.5, 19.5 and 22.5-inch rim diameters and consists of four applications: Long Haul, Regional, Mixed Service and Max Load.
Westlake tyres are produced by the Hangzhou Zhongce Rubber Company Limited – ZC Rubber – and the brand is marketed and distributed within most European countries (including UK, France, Spain, Greece as well as Scandinavia and Benelux) by Zenises, from its European base in London.
In addition to the Logistik retreads and the Westlake new tyres detailed above, Vacu-Lug manufactures its own extensive range of drive and trailer retread tyres for commercial, agricultural and OTR applications, as well as Pirelli's Novateck range, all of which are backed by Vacu-Lug's unique VMS fleet management system. The company also distributes Yokohama truck and earthmover tyres and Magna Tyres' Industrial and earthmover range throughout the UK.