Unity Tyre talks 40 years of budget brand experience, potential wholesale contraction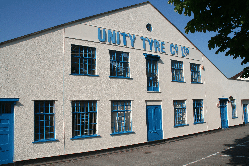 Bristol's Unity Tyre distributes budget brand tyres in the UK, having established itself as an independent wholesaler with the objective of providing a "one-stop-shop" service. Unity's spokesperson said the company works closely with "tyre manufacturing suppliers including SD International to ensure we meet the demands of our customer base with continuous quality products." Unity also commented on major issues in the UK tyre wholesale sector covered in October's Tyres & Accessories feature, and suggested that further volatility could lead to its contraction in the near future.
Unity Tyre has been importing SD International tyres for the past six years, and imports the Double Happiness radial truck brand, which it says is "particularly popular for both long and short haul applications." The company supplies a wide range of tyres, with applications ranging from the mower to earthmover sectors. During the last two years, Unity states it has increased its truck business by "over 50 per cent". It currently stocks £1.5 million of combined stock at its warehouses in Bristol and Keighley, West Yorkshire, spanning 100,000 square feet of storage space. Daily nationwide deliveries are carried out by the company's large fleet of delivery vehicles.
Unity's brand strategy is formed from its experience of over 40 years dealing solely in budget tyres. The company adds that it constantly looks to increase its portfolio of sizes and patterns, primarily driven by customer feedback, while retaining a policy of "never overselling its brands in order to achieve market share". Unity also believes continuity of price and swift delivery schedules are of high importance, with stocks maintained to provide these services across its entire truck range.
Asked whether the current economic situation in China would offer opportunities with new brands, Unity told T&A that it has invested heavily in its current brands and has "complete confidence in them" and "no plans to increase" the number of brands it stocks. It added that it was yet to see any "lowering of prices in the truck sector."
Another aspect of UK market conditions examined in October's Tyres & Accessories magazine is the evolution of distribution, particularly given Michelin's recent European acquisitions, including Blackcircles.com in the UK. Unity told T&A that the development "further underlines the fact that there are far too many companies trying to get a slice of a market they have not previously been involved in. Unfortunately their lack of experience only drives the profit margins down for more established companies." Unity added that the transparent pricing offered to end consumers through e-commerce channels "puts increased pressure on a deal that has already been negotiated."
Overall, Unity told T&A that the market is becoming more difficult with "fluctuating exchange rates and forever commodity prices." The company said it fears "there will be more casualties in the near future for small independent wholesalers, and if interest rates eventually rise then a potential reduction in the wholesale operation could take place."