Car for sale – two careful owners since 1957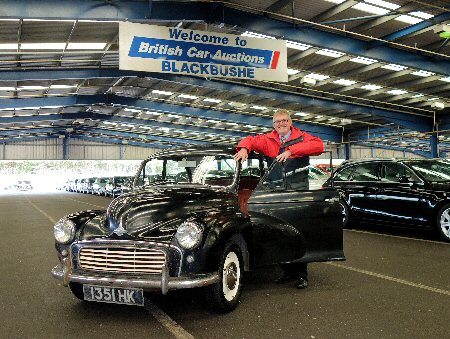 There's a feeling of nostalgia in the air at BCA, as a classic Morris Minor last sold by the company in 1980 has returned to be sold again.
The two-door Morris Minor was sold at the former BCA Frimley centre in 1980 by the original owner who had bought it as a new car in 1957. The buyer in 1980 is now returning to BCA to sell the car for only the second time in nearly sixty years, at BCA Blackbushe on 14 October. Included in the paperwork is the 1980 BCA purchase invoice, confirming that the car originally sold for £680.
The Morris Minor is finished in black with a red leather interior and is being sold with a large number of original spares including a pair of boxed 'as new' Lucas semaphore indicators, various service parts, Morris badges, carpets, new floor panels, chrome overriders and a complete set of spare wheels. The car also retains its original period number plate 1351 HK. Largely original throughout, the car requires some gentle restoration to return to its former glories and would, BCA suggest, make a great project for an enthusiast.
Blackbushe centre manager James Gibson said: "This is a genuine two-owner from new car that BCA last sold 35 years ago. We are delighted that this stalwart of British roads from the fifties has made its way back to BCA ready for its next owner. Potential owners will recognise that this is a great opportunity to acquire a very original example of this iconic car, with a well-documented history, genuine mileage and an extensive set of spares that will be invaluable for restoring the car. We expect lots of interest and strong bidding on the day."
The 1957 Morris Minor goes for sale at BCA Blackbushe on Wednesday 14 October at 11:00.