BFGoodrich launches new European SUV and crossover tyre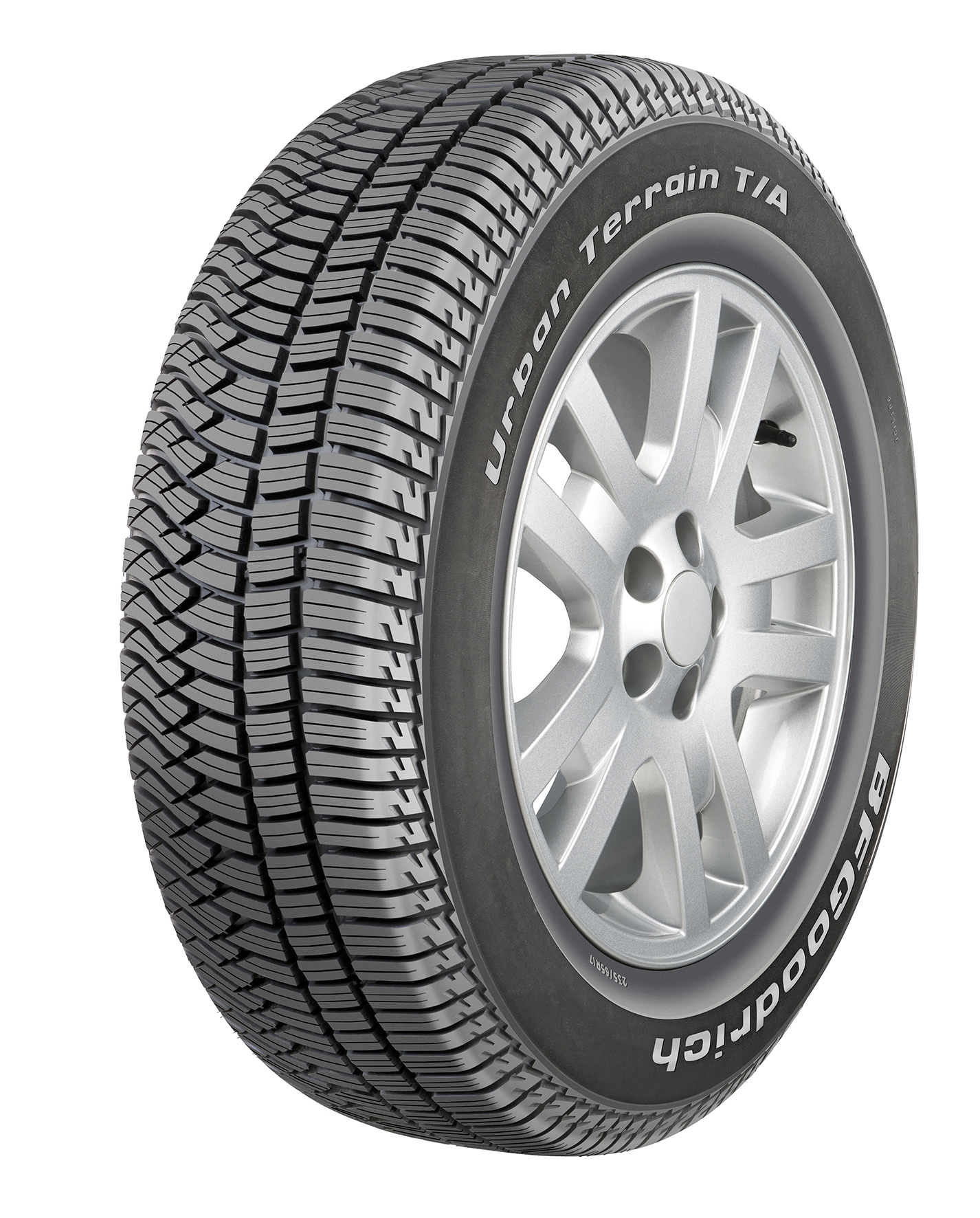 BF Goodrich has launched its new Urban Terrain T/A tyre for European SUV and crossover applications. Available from early October 2015 and offering an extended range from November 2015, BFGoodrich reports that the tyre offers "exceptional toughness to SUV and urban crossover drivers, combined with high performance braking grip and long tread life".
Manufactured in three European plants (in Cholet and Roanne in France as wells as Olsztyn in Poland), the new Urban Terrain T/A all-season tyre was designed for those driving SUV in cities and similar environments.
Design features include longitudinal tread grooves added to evacuate water effectively. Heavily siped cross-grooving which is designed to provide traction on snow, mud and cold roads. The tyre bears the 3PMSF (3-Peak-Mountain with Snow Flake symbol) as well as M+S (Mud and Snow) markings, so it is a true all-season tyre.
According to the company, the new tyre "stands up to all the challenges of city driving, from pavements to potholes", thanks to its 20 per cent stronger cord casing. At the same time there is considerable tread rubber depth to prolong service life while the asymmetrical tread pattern helps ensure slow and regular wear.
Exclusively marketed in Europe, the BFGoodrich Urban Terrain T/A is initially available in 18 sizes. And this makes it suitable for the Dacia Duster, Hyundai iX35, Kia Sportage, Opel Mokka, Nissan Qashqai, Suzuki Vitara, Range Rover, Ford Kuga, Jeep Cherokee, Volkswagen Touareg or Tiguan to name just a few.
Size availability:
Dimensions
Vehicles
Available from 1 October 2015
215/65R16 98 H
 Nissan Qashqai (2007), VW Tiguan (2007)
235/60R18 107V
Hyundai Santa Fe 2007/2012, Volvo XC60 (2008/2012)
235/65R17 108V
 Volvo XC60 (2008-2012), R-Class Mercedes (2006) and M-Class (2011), BMW X5 (2003)
235/75R15 109H
 Nissan Terrano, Ford Ranger (2006)
265/70R16 112H
 G-Class Mercedes (2001) and Mitsubishi Pajero (2007)
Available from 1 November 2015
235/55R17 99 V
 Ford Kuga (2008), VW Tiguan (2007) and Kia Sportage (2004)
215/60R17 96 H
 VW Tiguan (2007), Audi Q3 (2011) and Nissan Qashqai (2007)
215/70R16 100H
 Kia Sportage (2010), Hyundai ix35 (2010)
225/65R17 102H
 Fiat Freemont (2011), Honda CRV (2011)
245/70R16 111H
 Kia Sorento (2007)
235/50R18 97 V
 Audi Q3 (2011), BMW X3, Ford Kuga (2008), VW Tiguan (2007)
235/55R18 100V
 Kia Sportage (2010), Toyota RAV4 (2006)
205/70R15 96 H
 Kia Sportage, Suzuki Jimny, Subaru Forester
235/60R16 104H
 Toyota RAV4 (2003), Suzuki Grand Vitara (2003), Kia Sportage (2004)
235/70R16 106H
 Jeep Cherokee (2007), Dodge Nitro (2007)
255/55R18 109V
 Range Rover (2005), Touareg (2010)
225/70R16 103H
 Suzuki Grand Vitara (2005), Hyundai Santa Fe (2003)
255/65R16 113H
SsangYong Rexton (2003) and Hyundai Terracan (2001)
Source: BFGoodrich