Let it rain – Bandag retreading facility more than doubles rainwater storage capacity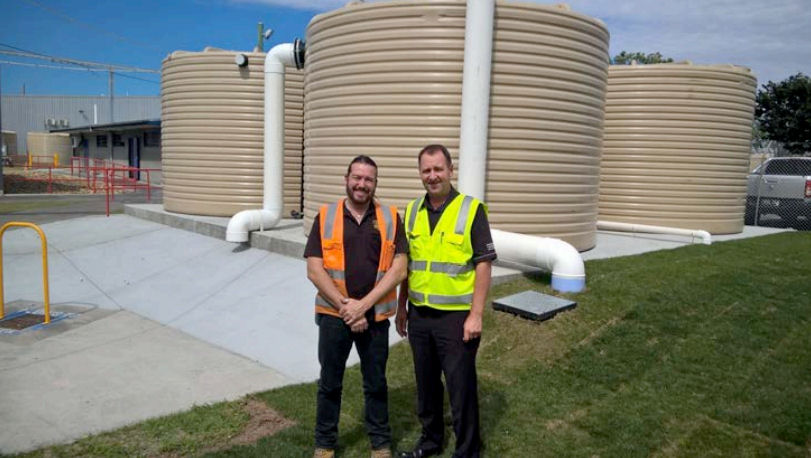 Bridgestone Australia's Bandag Manufacturing retreading operation has completed the first part of a project that will enable its Wacol plant in Brisbane to harvest and store more than one million litres of rainwater. Bandag added 13 new rainwater tanks to its existing harvesting capabilities at the end of August, enabling the business to collect and store an extra 610,000 litres of water. Stage two will be completed in the coming months and will take Bandag's total rainwater storage capacity to 1,100,000 litres.
"This initiative is all about strengthening our commitment to being as environmentally friendly as possible," said Greg Nielsen, general manager retread business at Bandag Manufacturing Pty Ltd. "We want to make sure our commitment to the environment doesn't stop with our products; we want to be an industry leader in this space and to do that you need to take action."
Bandag retreads more than 550,000 truck tyre casings every year at its Wacol retreading plant. The harvested rainwater is used in the manufacturing site's cooling tower and is integral to Bandag operations – the rainwater services mixers, mills, boiler and cooling tunnels, and represents more than 95 per cent of the water consumed at the site. "We've been storing rainwater since 2008 but our new collection capabilities significantly reduces our reliance on local mains water and is a key part of our overall environmental focus," Nielsen added. "We have implemented a host of other environmental initiatives, including installing two 100 kilowatt solar power systems, which significantly reduce our greenhouse gas emissions."
Bandag has also installed power factor correction equipment to improve energy efficiency and is now recycling 100 tonnes worth of tread scrap annually. "Retreading is a highly practical and efficient form of recycling with real environmental benefits. We are endeavouring wherever possible to apply this same environmental philosophy to all areas of our business," said the retread business general manager.
The rainwater and recycling projects are two of the three key environmental measures that have been introduced at the Wacol site; the third is the two 100 kilowatt solar power systems installed on the plant's roof at the start of this year.