Goodyear bringing retro tyre look to NASCAR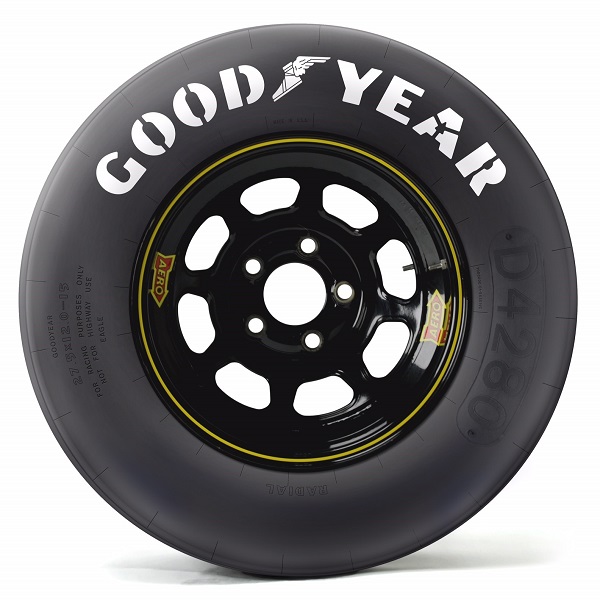 Being decades behind the times isn't typically a good thing for a tyre maker, but this weekend is different – it is Labor Day weekend in the USA, and Goodyear is supplying a special 'throwback' version of its race tyres for the weekend's NASCAR races at Darlington Raceway in South Carolina. The tyres form part of a broader throwback initiative at Darlington that will honour the track's storied past in NASCAR racing during the course of the weekend. Many NASCAR teams and sponsors are also participating by running vintage-style paint schemes.
For the event, Goodyear will replace the yellow 'Goodyear Eagle' lettering on its tyres' sidewalls with a white Goodyear logo that imitates the design seen on NASCAR tyres in the 1970s. The tyres will run during tomorrow's NASCAR XFINITY Series VFW Sport Clips Help a Hero 200 race and the NASCAR Sprint Cup Series Bojangles' Southern 500 on 6 September.
Goodyear says the throwback weekend holds particular significance for it as Darlington Raceway was the site of several key milestones in the company's 61-year history with NASCAR. Goodyear conducted its first official NASCAR tyre tests at Darlington in 1954 and also earned its first NASCAR victory there, at the 1959 Southern 500.
"Since our earliest days in NASCAR, Goodyear has used the sport as a proving grounds for tyre development and innovation," said Stu Grant, Goodyear's general manager of global race tyres. "The Darlington Throwback weekend is a great opportunity for us to recognise our rich NASCAR heritage, as we continue to drive superior performance both on and off the track."