A partnership between grip and precision – Continental SportContact 6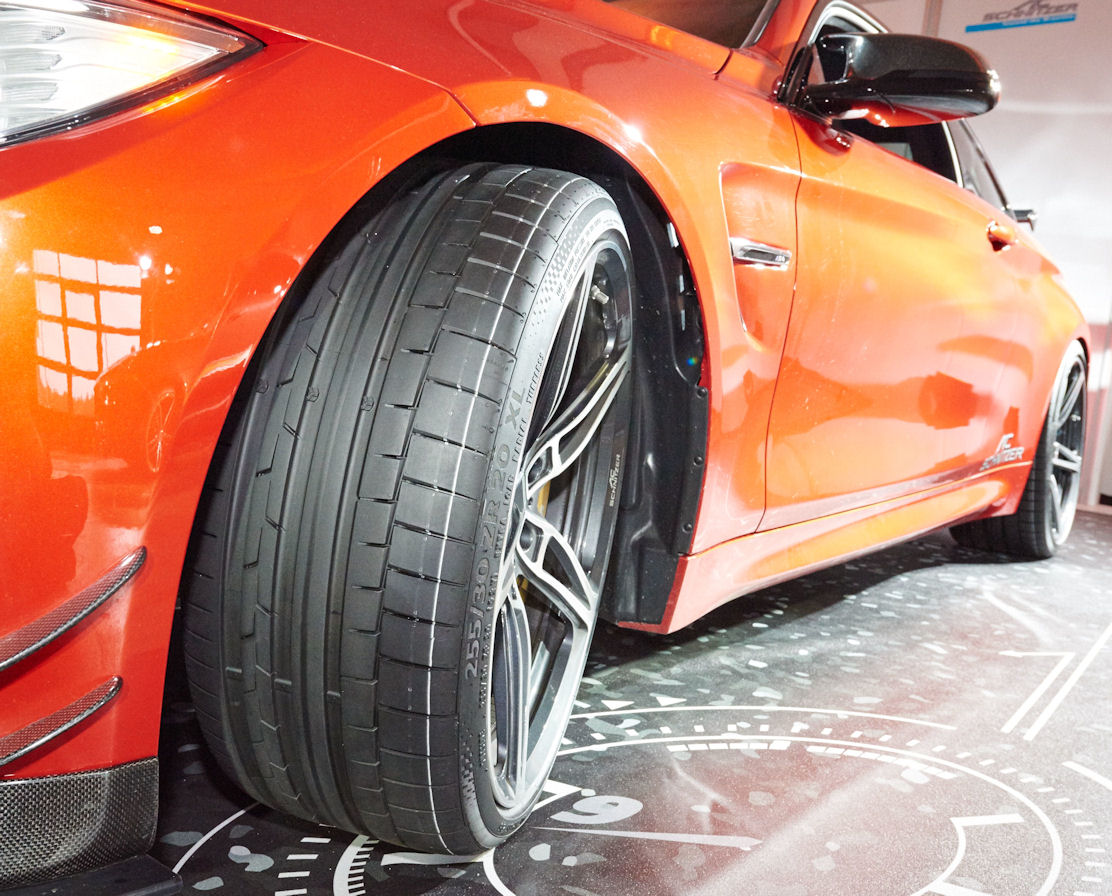 We've become accustomed to hearing that a car's point of contact with the road is an area of tyre the size of a postcard, but in fact the contact patch can be much smaller than this. The onus upon tyre developers is therefore to maximise the available grip they can pack into this tiny area and do this without spoiling a vehicle's other handling characteristics. This was the main challenge awaiting the team at Continental when working on the new generation 'SportContact' tyre – the SportContact 6. Our first impression is that Continental has addressed this task well, coming up with a tyre that invites drivers to explore the limits of performance while offering a forgiving response should the extent of the driver's own abilities be reached first.
"We wanted to deliver the sportiest SportContact ever, but you have to remember that not all sports car owners are skilled drivers," comments Burkhard Wies, vice-president tyre line development worldwide at Continental. "So while we focused on maximum grip, with a particular emphasis on dry conditions, we knew that grip itself is nothing without control. So our second focus area was precision – high controllability, even under strong acceleration in sportive conditions."
SportContact 6 technology
Dr Wies offered a host of insights into the thinking, technology and work that went into the new tyre during a pre-launch event held at the start of this month. In regards to the above-mentioned contact patch, Wies explained that although the gross contact patch area is around 160 cm² – roughly the size of a postcard – some 40 cm² of this is taken up by tread grooves. "But the real contact area on a rough road is even less. On a rough road you lose about 80 per cent of the surface area, so from 120 cm² you now have a contact area of 25 cm². But don't worry, the tyre can still transmit forces."
Compound technology helps the SportContact 6 come to terms with a potentially minute contact area, and the principles behind this are child's play – provided you have a PhD in mechanical engineering. Broadly speaking, the 'Black Chili' compound chosen for the SportContact 6 is a typical UHP tyre compound – a roughly 80/20 mix of SSBR and natural rubber and a similar mix of silica and carbon black, resins for optimum dry grip plus some extra ingredients that Continental prefers to keep secret. But the SportContact 6's compound is much, much more complex than this.
While grip can be theoretically maximised in a small contact area by making the compound as soft as possible, this is not a feasible option for a patterned tyre that aims to offer good driving precision, as stiff tread blocks are needed for cornering. "So with our Black Chili compound we apply a trick you can see when stretching chewing gum," shares Wies. "Chewing gum is stiff when you start to stretch it but gets softer as you apply more strain. It's the same with rubber. Black Chili is a micro-flexible compound – stiff at the pattern level for high cornering stiffness, but softer and more flexible in the contact area due to the higher dynamic strain amplitude experienced there. This results in greater rubber deformation, meaning more of it comes into contact with the road. By taking advantage of this phenomenon we've achieved a five per cent grip improvement with our Black Chili compound. This doesn't sound huge, but this five per cent makes a difference." Black Chili compound also features polymer chains modified to increase their likelihood of sticking to the road surface, but we'll have to take Dr Wies's word on this.
Handling precision and rapid steering response is determined to a large degree by tread pattern, and Continental's men and women in lab coats also offered a solution here. "The tyre designers used novel force vectoring technology for optimal force transfer," comments Wies, explaining that this technology deploys different tread elements on the tyre's inside, outside, and centre areas. Depending on tyre size, three or four central ribs and the tyre's inner shoulder ensure maximum lateral transfer of force. "This noticeably improves the direct translation of steering commands to the asphalt," observes the vice-president of tyre line development. He adds that the outside of the tyre is subject to greater forces than the inside during cornering, and therefore an asymmetrical design was chosen for the rib flanks on the SportContact 6. "This increases the stability of the ribs and allows greater forces to be transferred. When working on the outer shoulders, the tyre designers combined the different block elements to form one larger unit. Large tread blocks on the outside are connected with interlaced elements in a second row of blocks. This allows the tread blocks to support each other during fast cornering and offer optimum lateral force transfer."
Compound and tread pattern are the key protagonists when it comes to grip and precision, however a tyre approved for speeds of up to 350 km/h (217 mph) – the operating limit Continental has set for the ZR (Y) rated SportContact 6 – needs to cope with enormous centrifugal forces. Continental's remedy was to develop a new casing material specifically for the SportContact 6. This material takes its strength from two strands of aramid, and these are interwoven with a single strand of nylon to produce a strong yet flexible fibre. In recognition of the materials used and the speed they allow the new tyre to achieve, Continental has named this material Aralon 350. "Implanted in rubber, this fibre is placed under the tread as a jointless cap ply. This complex structure acts like an additional steel belt and offers controlled, safe tyre contour behaviour even at speeds of up to 350 km/h," comments Dr Wies.
Improved steering precision
So what sort of tyre does a new casing material, clever tread design and a micro-flexible compound containing modified polymer chains result in? Tyres & Accessories was given the chance to find out at the Bilster Berg Drive Resort in Germany. Our experiences with the previous-generation ContiSportContact 5P gave us the expectation of brilliant grip in the new model, and we certainly weren't disappointed. Continental claims an 11 per cent improvement in dry road handling between the 5P and the SportContact 6, while grip levels are four per cent better in extreme, on-track conditions. But the greatest generational change can be seen in steering precision. The tyre developers' work here has paid off: Continental says a 14 per cent improvement over the last generation tyre has been achieved, and we found the SportContact 6 did exactly it says on the tin, both in the dry and in the fantastically wet conditions we experienced towards the middle of our day at Bilster Berg. Unfortunately we were unable to experience the new tyre alongside the 5P, however Continental provided vehicles fitted with two prototype tyres to demonstrate the development path it took with the SportContact 6, and to show the progress made in both grip and precision before the tyre was finally signed off.
Strong growth in larger sizes
The SportContact 6 will ultimately replace the ContiSportContact 5P and occupy the upper end of Continental's car tyre size range. A market launch portfolio of 41 passenger car sizes (no specific SUV sizes are offered, although Dr Wies comments that some larger dimensions are suitable for fitment on these vehicles) are available; these are mainly clustered in the popular 19 and 20-inch rim diameter category, however the fast growing 21-inch and over segment is catered for by the presence of 11 dimensions going all the way up to 23 inches.
While the 19 to 23-inch market covered by the SportContact 6 is expected to grow nine per cent in Europe between 2014 and 2020, Continental anticipates the market for 21-inch and larger rim diameter U-UHP tyres will expand 14 per cent during this period. That said, these fitments are expected to account for just over half a million unit sales in Europe by 2020, compared with between 4.5 million and 5 million 19-inch tyres sold. "But we want to have fitments for these larger sizes in anticipation of growth there," Wies notes.
The SportContact 6 is the fourth-generation of Continental's flagship on-road UHP tyre. The original ContiSportContact came to market in 1994 and gained its first original equipment approval, on the Audi A4 in size 205/55 R16, that same year. This tyre was followed by the ContiSportContact 2, ContiSportContact 3 and (Continental skipped over '4' for reasons unknown to us) and ContiSportContact 5P. The range has racked up more than 200 original equipment approvals over the last 21 years, and Continental has already announced the first homologations for the new tyre. Honda has approved the SportContact 6 for its new Nürburgring Nordschleife front wheel drive record breaker, the Civic R, and long-time partner Audi has given 19 and 20-inch SportContact 6 sizes the nod for its R8. Further Audi fitments will follow, along with homologations for BMW, Mercedes-Benz, Porsche and Maserati.
What's in a name?
Last year, Continental decided to drop the 'Conti' prefix from its tyre line names, and therefore ContiSportContact has been shortened to SportContact. But another change of name has also taken place – the SportContact 6 "lost the P" when accepting the baton from the ContiSportContact 5P (the 'P' stands for Performance), and it now shares summer tyre portfolio space with the similarly-named, 2011-introduced ContiSportContact 5, a product occupying the rung below on the performance ladder. The four year old tyre is still winning comparative test accolades – both Auto Express and evo magazine named the ContiSportContact 5 winner of their 2015 summer tyre tests – however its successor is expected to arrive in the coming year. It will be interesting to see what name the new tyre will carry, and whether it will retain a separate identity or join an enlarged SportContact 6 family.