Twisty left-hand track awaits Hankook in Moscow DTM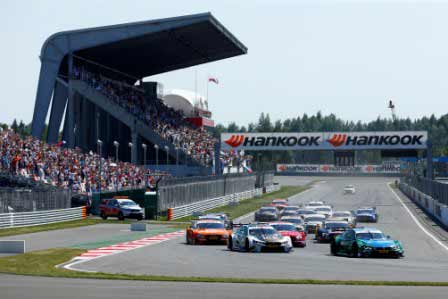 With its many corners, the 3.931km Moscow Raceway is one of the slower tracks on the DTM calendar. The fastest passage is the almost 900 metre home straight, where race cars reach a top speed of just on 250km/h. On the counter-clockwise track, Hankook's race tyres come under a heavy load on the cars' right side, but this has no impact on the performance of the tyre.
"The team engineers correct this, for instance, by making different adjustments to the air pressure on the left and right sides depending on the load. The highest tyre wear occurs on the right front, but our Ventus Race withstood this impressively over the last years," explains Hankook's DTM race engineer Thomas Baltes.
The smooth and compact track surface requires an ideal interaction between tyre pressure, vehicle setup and aerodynamics to get the Hankook race tyre quickly up to an optimal working temperature and to fully utilise the high grip level. However, the many corners and often twisty track layout also pose a special challenge to the Hankook Ventus Race rubber.
Baltes continues: "Generally, the tight middle sector of the track places the greatest stress on the tread and structure of Hankook's race tyre. Still, compared to other DTM circuits, the demands are no more than usual."
According to the Hankook DTM race engineer, this particular segment of the Moscow Raceway also proves critical. "The approach to and accelerating out of the middle sector on to the long finish straight are extremely important. The best chance to overtake is at the end of the straight using DRS in the braking zone. At the end of the day, those who best manage this passage will ultimately come out ahead."