Nokian Tyres to lower production, lay off workers in Finland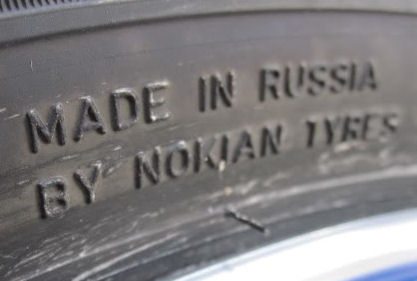 The the economic situation in Russia and the CIS countries has led to a downgrade in Nokian Tyres' 2015 outlook. The Finnish tyre maker says sales of passenger car tyres have continued to decline in this region, and those tyres being purchased within the Russian market are increasingly lower B or C segment brand products. The company's own sales in Russia were down 39.1 per cent year-on-year during the first half of 2015.
This decline in sales means even less capacity utilisation between Nokian Tyres' two factories, however it isn't the plant nearest to the flailing markets that that must tighten its belt to compensate; the Nokian Tyres plant in Vsevolozhsk, Russia produces some 80 per cent of Nokian's passenger car tyres and exported 63 per cent of its sales volume in the first six months of the year. Given that its production costs are mainly in roubles and its sales in euros, the Vsevolozhsk facility supported the company's margins. Instead, it is passenger car tyre production at Nokian's plant in Finland that will decrease as a result of this lower demand.
Nokian Tyres reports that statutory negotiations will begin on 14 August with all employees at its facility in Nokia, Finland, a total of around 900 people. A key discussion point will be the company's plan to save approximately €8 million a year by decreasing passenger car tyre production at the plant. Nokian calls the planned changes "adjustments" and shares that a maximum of 150 jobs will go if and when the planned measures are implemented.
"Despite the unfortunate cuts the role of our Nokian factory remains important, not only for the volumes it produces but also in developing new products and production processes," stated Ari Lehtoranta, Nokian Tyres' president and chief executive officer. "Our production volumes are lower this year than last year. The volumes will likely return back to growth next year, but the coming few years' growth can be managed with the existing unused capacity."