Nokian launches NTR 74S all year round truck tyre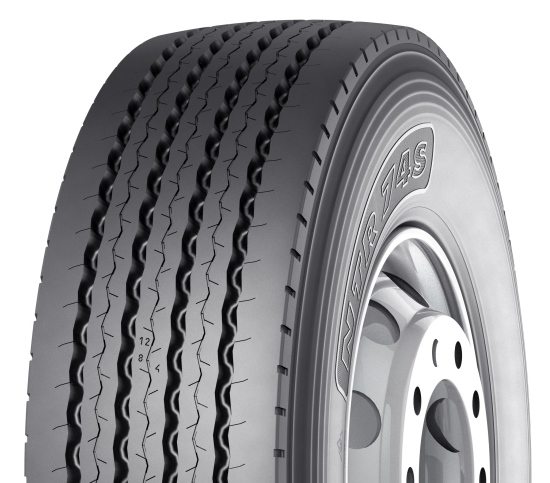 Nokian has released the new NTR 74S, which is designed for "safe travel under all weather conditions, all year round". The tyre is optimised for use on main roads and it is primarily intended for trailers, but it is also said to be suitable for use on the steer axle. The Nokian NTR 74S is 3PMSF approved and is aimed at use on the varying conditions of the Nordic countries, Central Europe and Russia.
The NTR 74S features a sturdy, four-grooved tread with zigzag shaped grooves. The tyre's shoulders have been constructed to improve durability under demanding and abrasive operating conditions. Zigzag grooves have been incorporated to remove stones, which in turn reduces the risk of puncture.
The centre siping of the new tyre follows the same pattern as the zigzag shaped grooves. Siping enables good longitudinal and lateral grip, which improves the reliability of the tyre under all weather conditions. The Driving Safety Indicator (DSI), developed and patented by Nokian Tyres, makes it easier to monitor the safety and wear of the tyre. It displays the remaining tread depth on the tyre's main grooves in numbers.
The Nokian NTR 74S offers reliability all year long. As a sign of good grip on winter roads, the tyre bears the 3PMSF label (snowflake symbol) in addition to the M+S label. Tyres that bear the snowflake symbol have been proved to work under demanding snow conditions, which means that the Nokian NTR 74S will not compromise on grip even in deep snow.
According to Nokian, the Finnish firm's latest tyre also has low rolling resistance, which in turn reduces fuel consumption. In addition, the product's economical credentials are enhanced by its reported "good retreading capabilities", which increases the usability of the casing and lowers the overall costs. Several high-quality Nokian Noktop tread patterns are available for retreading.
The first sizes of the tyre will become available towards the end of the summer of 2015 in the Nordic countries and Europe. Initially the Nokian NTR 74S will be available in 385/55 R22.5 and 385/65R22.5.