Loyalty, spectacle and money – F1 principals talk tyre supply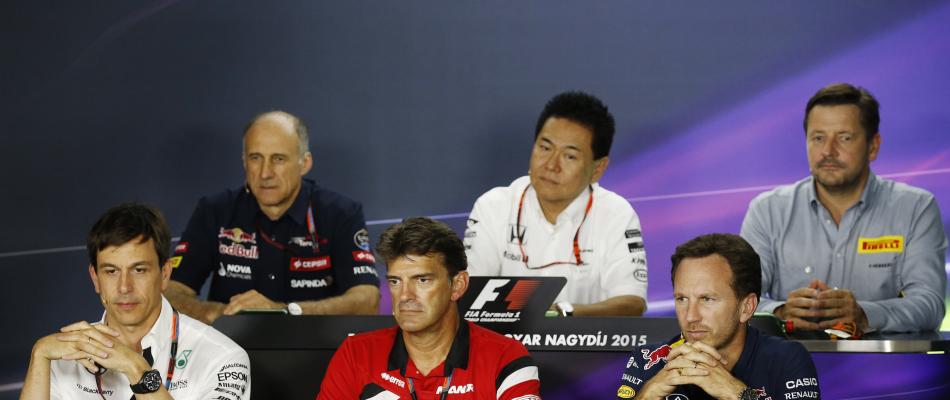 The relationship between Pirelli and the Formula One teams has by no means been smooth sailing since the Italian manufacturer began as exclusive tyre supplier in 2011, yet F1 team bosses don't appear keen to try their luck with a new partner. Money, as you might have guessed, plays an important role in this loyalty to Pirelli.
Despite their differences over tyre degradation issues in 2013, the heads of the four teams attending a Hungarian Grand Prix press conference last month all indicated their overall satisfaction with Pirelli: Mercedes' Toto Wolff and Manor's Graeme Lowdon both commented on the importance of honouring the current tyre partner, while Christian Horner from Red Bull Racing and Torro Ross's Franz Trost opined that Pirelli has "done a good job" over the past few years.
But are these kind words enough for Pirelli come 2017? Ultimately, it may depend on whether the Italian firm's continued tyre supply is more beneficial for bottom lines than a switch to Michelin. Wolff noted that "commercial terms are going to play a role" and therefore he'd rather focus on the existing tyre partner, while Graeme Lowdon commented on the extreme importance of commercial considerations, stating that "if we end up with a new tyre deal that requires the teams to go and find more money, then we'll be chasing more money again."
Lowdon quoted the saying "turnover is vanity and profit is sanity" and added that "there needs to be a whole lot of sanity" around in the form of a good commercial package. Torro Rosso's Trost didn't voice a preference for either tyre maker, choosing instead to simply comment that "the more money you get from a tyre manufacturer, the better it is for the teams."
Only Horner's response went beyond the fiscal level, and the point he raised wasn't good news for Michelin's idea of a larger-diameter and longer-lasting F1 tyre. "I think what we're basically saying is that whoever pays the most cash will sit here and [we'll] say we love [them] and think they should be the right supplier for Formula One," he commented. "But I think it does go a bit beyond that. An 18-inch rim and a one-stop is going to do nothing for the spectacle of a Grand Prix, and I think actually we need to be looking at doing the opposite."
The Red Bull Racing principal would like to see races with two or three pit stops, controlled tyre degradation and "maybe more choice for the teams in terms of the tyres that they can take to Grands Prix." He looks ahead to the faster F1 cars planned for 2017 and believes adjusting to the differences they'll bring will present the winning F1 tyre supply bidder with a great challenge. "Hopefully Pirelli will be successful with that," he added.
Pirelli and Michelin were the only two tyre manufacturers to submit tyre supply bids before the FIA's 17 July deadline. Bernie Ecclestone is now holding discussions with the two companies' respective motorsport directors, Paul Hembery and Pascal Couasnon, and will announce the winning bidder in September.