Dandelion rubber to feed 'aggressive' expansion of Sumitomo's global production footprint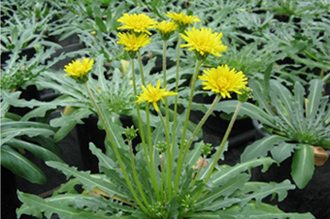 A number of tyre makers have recently shown interest in Taraxicum kok-saghya (TKS), or Russian dandelion, as an alternative source of natural rubber – one manufacturer is even looking to launch tyres containing this raw material within the next five to ten years. Now Sumitomo Rubber Industries has added its name to the list of tyre firms examining the potential of TKS as a replacement for rubber from the Hevea tree; the Japanese manufacturer has commenced joint research with emerging US-based biotech company Kultevat and is working to find practical applications for natural rubber derived from the yellow-flowered plant.
Sumitomo Rubber Industries' interest in Russian dandelions stems from its desire to "aggressively expand" its global tyre production network. The company's 'Vision 2020' strategy calls for increased production capacity at the plant it set up in Brazil in 2013 (capacity is expected to reach 15,000 tyres a day there this year and will continue to grow in response to future demand) and the factory taken on through its acquisition of Apollo Tyres South Africa that same year (the goal is to produce 14,500 tyres a day in South Africa by 2017). The strategy also led to the erection of an agricultural tyre production facility in Thailand, which started operations in April 2014, and Sumitomo Rubber Industries recently began work on a new factory in Turkey.
Plants in South Africa, Brazil, Turkey and Thailand – as well as in China, Indonesia, and, of course, Japan – give Sumitomo Rubber Industries a well-spread tyre production footprint. Yet around 90 per cent of the world's natural rubber supply comes from just particular area – Asia. While this plentiful, and currently cheap, supply of raw materials benefits companies whose manufacturing base is concentrated in the region, shipping natural rubber to production facilities around the world is neither cost-effective, convenient nor especially environmentally-friendly. Through its partnership with Kultevat, the tyre maker says it hopes to "achieve a more environmentally friendly supply of high-performance products on a global scale."
Kultevat is developing and testing new varieties of TKS for increased rubber productivity in greenhouse and field trials in the USA through a partnership with Dutch 'green gene revolution' firm KeyGene. The agreement with Sumitomo Rubber Industries will accelerate the breeding effort and the selection of varieties possessing specific traits that meet Sumitomo's goal of developing proprietary products that reduce the environmental impacts of rubber production and refinement.
Unlike Hevea rubber trees, TKS can be grown in temperate regions around the world. Kultevat's goals include increasing the yield of rubber from cultivation of highly productive varieties of TKS in multiple locations in North America, and developing green technologies for extraction of product from plant tissues. Sumitomo Rubber Industries has committed an undisclosed amount of funding for the TKS joint research to promote the better use of natural resources, while securing itself a reliable and efficient future supply of raw materials near its production facilities. "We expect that development of TKS as an economically viable source of rubber will allow SRI to provide a steady supply of high-performance tyres with low environmental impact to a greater number of customers in the future," said Ikuji Ikeda, president of Sumitomo Rubber Industries.
"Kultevat's commercialisation strategy calls for the company to sell into specialty rubber markets at the outset while the company continues working with the Sumitomo Rubber Industries to develop products for their purposes," added Kultevat chief executive officer Daniel R. Swiger. "We have engaged a number of customers and are currently growing TKS for processing and rubber for prototype and testing purposes. We expect commercial sales of rubber beginning in 2016."
Kultevat primarily serves sustainable agricultural markets through the production of rubber and mixed sugar feedstocks for the biofuels market. The company's key experience lies in the commercial utilisation of plant materials to develop profitable, sustainable, and environmentally-benign sources of rubber, while simultaneously supplying the biofuels industry.
Accelerating a reduction in Hevea dependency
Sumitomo Rubber Industries has been working to develop tyres with a reduced environmental impact since 2001 and released its Enasave 100, a tyre entirely devoid of fossil fuel materials, in November 2013. At the same time, the company has worked with optimised natural resources, such as the Ultra-Pure Natural Rubber (UPNR) used in its November 2014-launched Enasave Next range of fuel-efficient tyres.
The company intends to pair Kultevat's biomass technology with the proprietary technologies the Sumitomo Rubber Group pioneered itself; it believes this combination will accelerate a reduction in the company's nearly total dependence upon foreign sources of rubber around the world.