Slovakian production of Continental run-flat tyres begins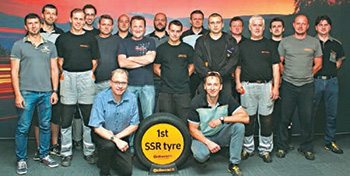 Until this year, Continental only produced run-flat tyres at its Aachen and Korbach factories in Germany. However a couple of years ago the company saw a need to expand production of original equipment run-flats in response to growing demand from vehicle manufacturers, and at the end of 2013 the decision was taken to equip the Continental Matador Rubber factory in Púchov, Slovakia to make self-supporting run-flat, or SSR tyres.
A grooving machine for tyre sidewall panels was installed to accommodate SSR production and modifications were made to tyre building equipment. Employees were trained in order to adapt to changes in the production process. The first test tyres were produced in February 2015. These ContiProContact (size 225/50R17) 94H and ProContact GX (size 225/45 R18 95H XL¬) tyres are to be produced for a customer within the Fiat group.