Cohade returns to the tyre industry as Triangle's CEO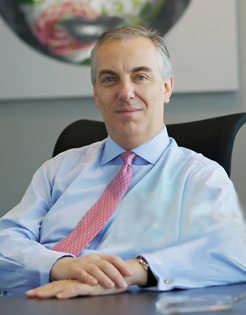 The former head of Goodyear's Asia Pacific business has joined Triangle Tyre Co. Ltd as its new chief executive officer. He began in this role in April 2015 and will work towards further globalising the tyre maker's activities – indeed, Triangle Tyre states that the French national's appointment to the role shows the company's "confidence and determination" to globalise. Ding Yuhua will continue to serve as Triangle Tyre's chairman of the board.
"I am delighted to welcome Pierre as Triangle Tyre's new CEO," stated Ding. "Pierre is a most recognised global executive, having worked in three multinationals and four continents over 30 years. He will focus on the globalisation strategy of the company, and will keep driving and enhancing the capability of the company in manufacturing, marketing and sales, R&D, talent development and leadership in order to build the Triangle brand around the world. Also, he will lead the modernisation of Triangle's governance and management practices and policies, transforming Triangle from a leader in China to a global player. I firmly believe that his joining will bring new energy to the development of globalisation of the company."
Cohade served as president of Goodyear's Asia Pacific business between October 2004 and December 2011. Upon leaving Goodyear he took on the role of senior advisor ad ChinaVest, Wells Fargo's investment bank affiliate in China. Prior employment includes 17 years at Kodak, where his last position was chairman of Kodak operations in Europe, Africa, Middle East and Russia, and an 18-month stint as president of Danone's Global Water and Beverage division.
"I am very pleased to join Triangle," he commented. "In the past 39 years, Triangle has built a leadership position in the tyre business in China. It is now time to follow Triangle customers as they expand around the world. Together with China's one road one belt policy, we will accelerate the establishing and improvement of the global manufacturing system, R&D innovation system and marketing & sales system, especially the building of global talents team and modernisation of governance. We will become OE (original equipment) supplier to global brands and expand our RE (replacement) market presence in key countries. There are three critical competencies that Triangle must be known for: product leadership, manufacturing excellence, and branded business."
Triangle Tyre is headquartered in Weihai, Shandong Province, and claims to be China's largest privately owned tyre company. Its products are exported to more than 170 companies around the world. Last year the tyre maker achieved sales of RMB 17.5 billion (£1.8 billion), making it the world's 14th largest tyre maker in turns of turnover.