Prototype 18-inch tyres taken for a spin in Monaco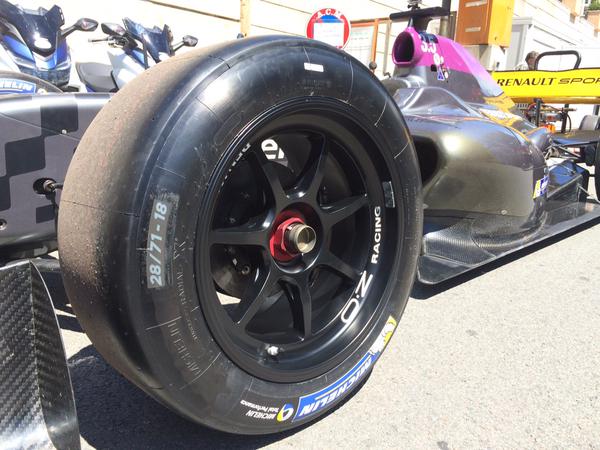 Last week's Monaco Grand Prix delivered Nico Rosberg his third victory in a row at the track, and prior to the race the Circuit de Monaco was also host to 18-inch tyre demonstrations for two F1 feeder championships. Pirelli showed off its larger diameter race-ready GP2 rubber while Renault Sport Technologies fielded a Formula Renault 3.5 car fitted with 18-inch Michelin tyres. These demonstrations are significant given both tyre makers' views on the direction F1 tyre evolution should take, a topic of particular interest now that tenders are open for F1 tyre supply between 2017 and 2019.
Pirelli has tested race-ready 18-inch GP2 tyres during the course of this year and displayed these on 22 May. The tyres shown in Monaco were based on Pirelli's supersoft compound and of a similar size to those tested on a Lotus F1 car following last year's British Grand Prix. The tyres were fitted to the GP2 development car and driven on two demonstration laps by Martin Brundle.
The three tests of the 18-inch tyres held this year delivered lap times said to be "equivalent to the current 13-inch tyre" with no compromise in degradation observed. Pirelli says it designed the 18-inch GP2 tyres to highlight its capability as a series supplier to "rapidly react to whichever future regulations may be requested" and to demonstrate the "proactive approach that Pirelli has taken to the top levels of motorsport ever since being appointed as exclusive supplier to Formula One in 2011."
The tyres were unveiled in Monaco by Brundle and Pirelli's motorsport director, Paul Hembery. "These tyres are competitive and ready to race, so we wanted to show them to people now to make the point that we are ready to adapt ourselves to whichever regulations may be adopted in future, in a timely and proactive fashion," stated Hembery. "We're open to what the sport wants to do. Most of the championships we supply – nearly 300 of them, all over the world – actually use 18-inch tyres so this wouldn't be such a big jump for us. As always, we're committed to finding the best and most relevant solutions at every level of motorsport. It's true that you don't see so many road cars running on 13-inch tyres these days, so this could be a very interesting direction for the future. We're glad that Martin enjoyed sampling them on the most spectacular circuit in the world."
Brundle, whose last used Pirelli tyres as a driver with Brabham-Yamaha in 1991, described Pirelli's development of race-ready 18-inch GP2 tyres as a "very good, positive initiative." He added: "It was really interesting to drive the Formula One circuit in a GP2 car with these tyres. It actually felt completely normal: by the second lap I was able to push the car a bit; I had my foot flat to the floor occasionally. Initially, I was expecting the car to feel a lot stiffer with these tyres, but that wasn't the case at all. There are a few things to get used to – for example it's harder to see exactly where the apex is – but as a driver your job is to adapt. I wish I could have done a few more laps."
Renault Sport Technologies fielded the Formula Renault 3.5 car fitted with 18-inch Michelin tyres on 22 May, along with a Formula Renault 2.0 car shod with 17-inch rubber. The French tyre maker lists an increase from 13 to 18-inch rim diameters as a prerequisite for its return to Formula One, and in a document released by Michelin on the day of the test, motorsport director Pascal Couasnon stated that "single-seater cars racing on 13-inch tyres are a thing of the past." Both Michelin and Pirelli believe the larger tyre diameter would facilitate the transfer of technology to their road-going products. Pirelli's Paul Hembery has also previously commented that the 18-inch size is also preferable for aesthetic reasons, and future F1 regulations may back this desire for a less old-fashioned looking tyre – a series of measures were voted on during the 14 May meeting of the Formula One Strategy Group in Biggin Hill, including the adoption of "more aggressive looks" for F1 cars from 2017 onwards.