Pro-Align presents Hunter automatic tyre tread depth measurement at Car Dealer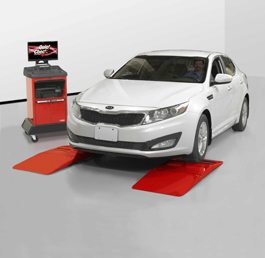 UK Hunter distributor Pro-Align will debut a new automatic drive-over tyre tread depth measurement system at the inaugural Car Dealer Conference & Automotive Expo. "As a fully automated and extremely accurate system, QuickTread is a perfect tool for workshops of all sizes, helping them to easily identify cars that require replacement tyres," explains Paul Beaurain, managing director, Pro-Align. "The extraordinary current level of demand in Hunter's domestic US market demonstrates the true potential for QuickTread in the UK . We've pulled out all the stops to secure a system for the Car Dealer Expo and we look forward to showing its potential and capabilities to all of those attending."
QuickTread is designed to be very fast and easy to use. Users need only to drive over the system's scanning plates at a normal workshop or walking speed and it measures a 50mm radial section of the tyre across its entire width to provide an accurate multipoint snapshot of the tyre's condition. The system works even if the tyre is wet.
Fully automated, Pro-Align calls the QuickTread an "ideal opportunity identifier" for every workshop, measuring tread depths on both car and light commercial vehicles. The results are displayed almost immediately on a console, as well as being presented in an easy-to-understand printout that can be used by service desks to help substantiate replacement tyre sales, indicate potential misalignment issues and opportunities, or simply for owners to keep in the vehicle history file to demonstrate care of ownership.
The Hunter QuickTread system will be set up in the approach to Car Dealer Conference with visitors having the opportunity to drive over the system and receive their own personalised report which will be available to collect from Pro-Align's stand within the main Expo Hall 1.
"We've seen much media coverage in recent years about motorists driving on illegal tyres so QuickTread is an ideal way to address the situation, improving road safety in the UK as well as presenting workshops with a good sales opportunity. We look forward to presenting the system at the Expo and talking to dealers about its potential installation in their workshops," concludes Beaurain.
Car Dealer Conference & Automotive Expo takes place at Silverstone circuit on 9 June 2015.