Dunlop anticipates Geomax test in Spain Motorcross World Championship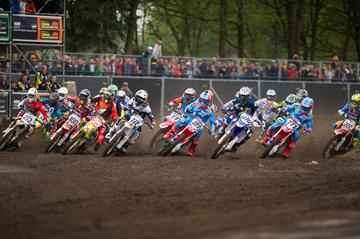 Dunlop heads to Spain with its 11 riders for the sixth round of the FIM Motocross World Championship on Sunday. The Talavera de la Reina track is hard pack and last year saw Steven Frossard take a race victory on the Kawasaki using Dunlop's hard terrain Geomax MX52 front and medium terrain Geomax MX32 rear.
As with the last round at Valkenswaard there are five different categories racing in total which impacts on track conditions. Compaction is likely to lead to riders benefitting from the harder terrain MX52 tyre. Dunlop's former champion and MXGP coordinator Eddy Seel is recommending that riders begin with the medium option in practice and move to the harder tyre with the changing conditions.
Eddy Seel, Dunlop MX race coordinator, said: "Talavera is an interesting track with ups and downs making it very interesting to ride and spectate. As with all tracks tyre choice is a compromise as it's rare to get the same conditions for every part. The Geomax MX32 has a very wide range and the riders love it so we will see at what point the track is hard enough for them to want to change to the MX52. The Honda riders rode very well at Valkenswaard. They had great starts and Gautier particularly wasn't letting anyone get in his way. I think Bobby will come back to prove he deserves to be back on the podium and the Kawasaki riders will be looking to prove their fitness and ability to get results on hard ground."