Continental introduces second low profile truck tyre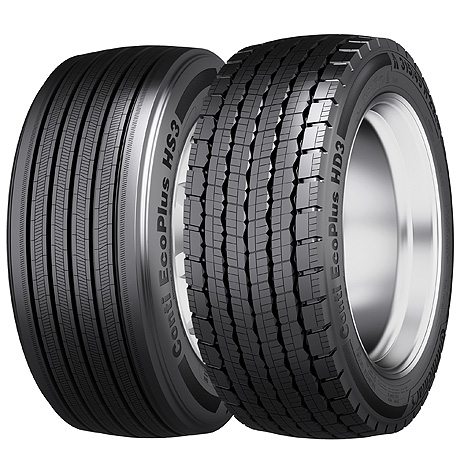 Following the market launch of the size 315/45 R 22.5 Conti EcoPlus HD3 drive axle tyre earlier this year, Continental has now rounded out its range for lowliners with the new 355/50 R 22.5 Conti EcoPlus HS3 steer axle tyre. The tyres were designed for long-distance use and regional transportation with frequent use of motorways.
Continental says the two low-profile tyres represent a "new tyre concept for towing vehicles." They enable fleet operators to make optimum use of the maximum three metre internal load height of their trailers without exceeding the maximum overall height of four metres permitted by European law. With a diameter of 934 millimetres, the Conti EcoPlus HS3 355/50 R 22.5 offers a load-carrying capacity of eight tonnes. The Conti EcoPlus HD3 315/45 R 22.5 has a diameter of just 852 millimetres and an axle load of 11.6 tonnes in twin fitment.
The Conti EcoPlus HS3 tread has a two-layer construction (cap base concept); the tread cap compound is designed for long service life. The tread base compound, on the other hand, does not come into contact with the road, and therefore is tweaked to reduce the heat generated in the crown providing in order to reduce rolling resistance.
Continental claims that the tyre's newly-developed profile improves grip in the wet, in part due to the tightly interlocking micro-sipes between the longitudinal tread grooves. In addition, the tyre's 'Plus Volume Pattern' adds extra material to the tread, reducing the width of the longitudinal tread grooves. In turn the low void area of tread in contact with the road increases, simultaneously improving wear resistance.
Like all of Continental's Generation 3 tyres, the Conti EcoPlus HS3 and Conti EcoPlus HD3 use a retreadable casing that feature's the patented AirKeep inner liner to prevent gradual loss of inflation pressure. Regrooving indicators are integrated into the tread of both tyres to mark the possible regrooving depth.