The Parts Alliance launches national tool hire programme, Toolhireclub.com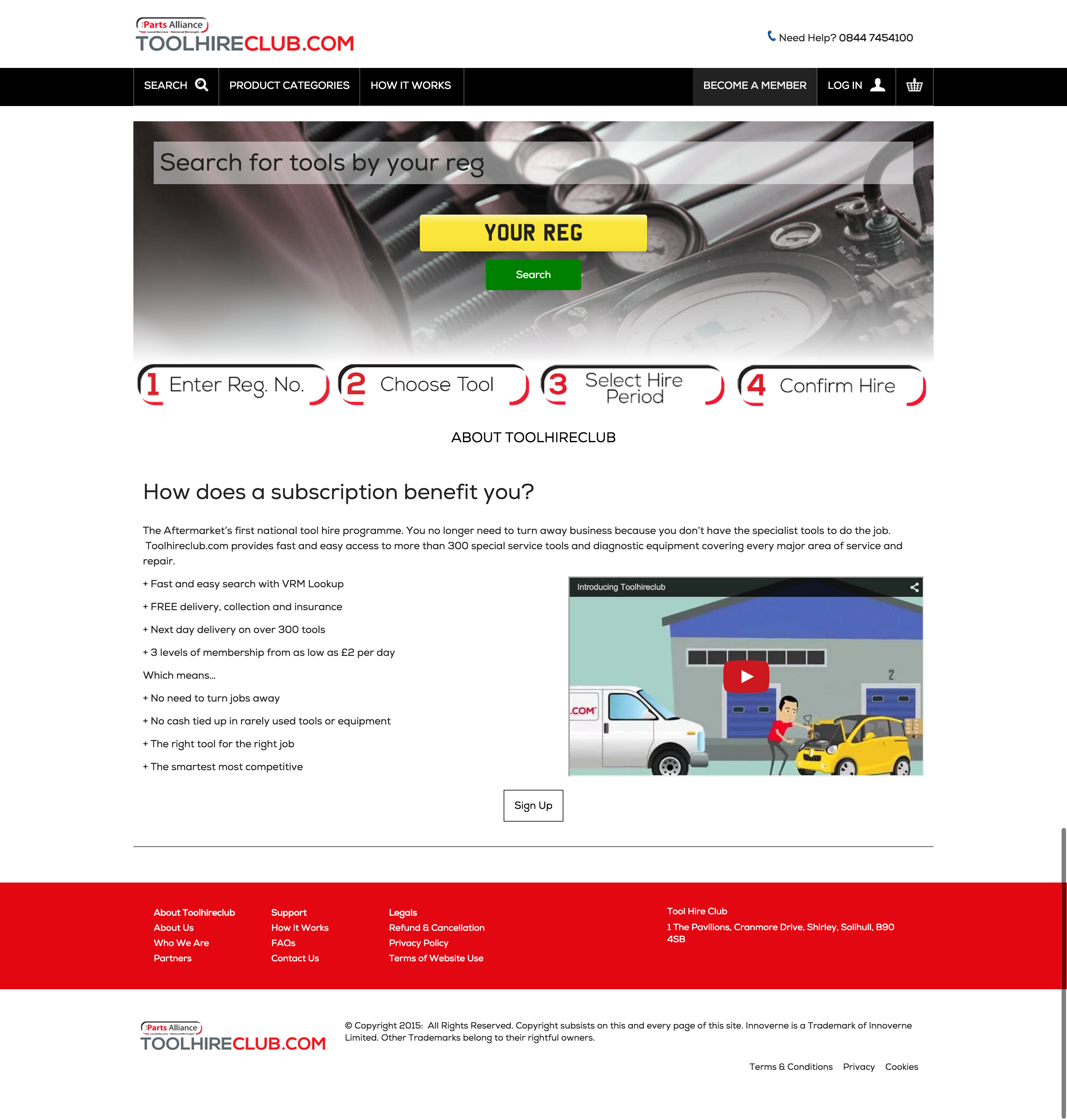 The Parts Alliance has launched a national tool hire programme. Designed to allow independent garages and workshops to retain business by improving access to specialist tools, Toolhireclub.com, is described as "a first" for a motor factor group. 300 special service tools and pieces of diagnostic equipment covering every major area of service and repair are available for hire. The Parts Alliance says it will allow garage owners to hire tools at low cost that in some cases would cost thousands of pounds to buy and would otherwise be beyond their budget.
The club's website uses a combination of the latest electronic ordering systems, including access through The Parts Alliance's parts cataloguing system, so that members can see availability in real time. Membership to the scheme is by annual subscription, at Gold, Silver and Bronze levels, with different hire price bands depending on the capital cost of the tools. With a Gold subscription the rental cost of some equipment is reduced to nothing. Standard delivery can be as prompt as next business day on tools ordered by midday.
Paul Dineen, head of The Parts Alliance's garage programme, said: "We are really excited about our national tool hire programme and the significant benefits it can bring to independent traders. It's about speed and convenience and being able to access specialist tools without the cost of ownership.
"The Parts Alliance is the first motor factor group to truly understand the future for the aftermarket lies in access to tools as opposed to just buying them. Our response is what we believe is the smartest, most price competitive tool hire programme in the UK.
"With subscriptions starting from as little as £2 a day, workshops will no longer have the disappointment of having to turn away profit generating work because they don't have the right tools and can't afford to buy them.
"Instead they will be able to hire them at competitive rates and then return them when the job is finished. Savings can be anywhere between 75 and 95 per cent compared to the cost of purchase.
"In some cases garages attempt the work without the correct equipment but then the job takes much longer than it should. Having the right tools, when you need them, will enable your workshop to run efficiently – and that's got to be good for business."
Toolhireclub.com can be accessed via PC, smartphone or tablet, and via AlliCat for existing The Parts Alliance customers. Orders can also be made through a telephone and email hotline open during normal business hours. The website features videos and user manuals as well as product information.
Delivery and collection of tools is free, with insurance included in the rental pricing.  The tools come with detailed instructions and text and email alerts let the garage know that their order is on its way.
Dineen states: "Traditional paper-based ordering is typically fraught with delays or mis-aligned availability, which can lead to customer service issues and unwanted costs.
"By using Toolhireclub.com members can search for the right tools by VRM look-up, vehicle make, model, OEM part number, engine code or type of work."
Under current Block Exemption rules independent garages can service vehicles without voiding the new vehicle warranty. However, the high price of special service tools and diagnostic equipment had, until now, stopped them taking full advantage, he adds.
"We have launched the Toolhireclub.com as a direct response to demand from garage owners. The programme uses leading edge technology to provide a customer experience that we are confident is industry defining and market leading. The concept is tools as a service, not just a commodity. It's a further example of The Parts Alliance creating market leading services to support its customers, in this instance helping independent garages to compete with franchised dealerships."