Pets at Home turns to ATS Euromaster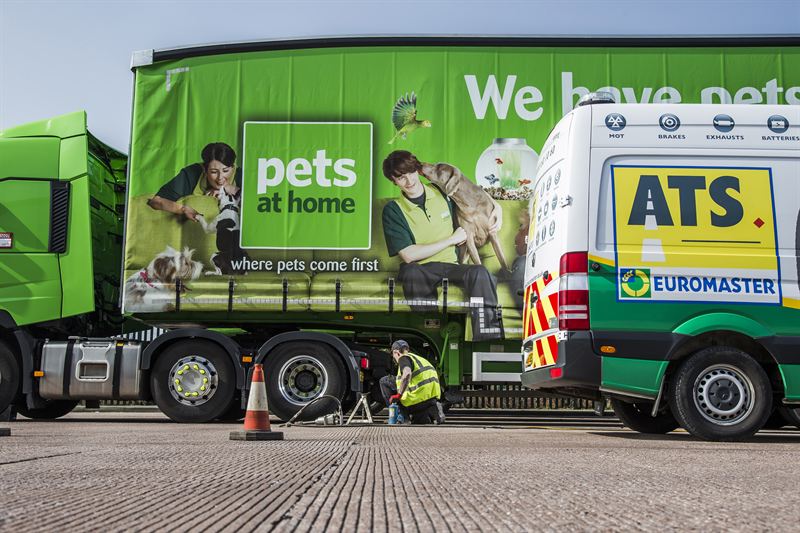 Pets at Home has signed a new contract with ATS Euromaster. The tyre management firm will seek to provide longer tyre life and greater visibility of running costs, handling all aspects of Pets at Home's tyre management. This follows a comprehensive tyre audit carried out by ATS Euromaster across the customer's truck and trailer assets, which identified opportunities to reduce operating costs and improve tyre life, safety and uptime.
The detailed tyre analysis is typical of the ongoing fleet inspections ATS Euromaster carries out for customers, utilising an electronic data capture system to record the condition of every tyre on the fleet. Results are then analysed to measure tyre pressures and brand adherence versus the defined tyre policy, as well as the percentage of retreads on fleet, remaining tread depths and an analysis of regrooving rates. The report also measures instances of tyre or wheel damage, missing valve caps and broken or missing wheel nut indicators.
Campbell Baxter, transport manager, Pets at Home, says: "ATS Euromaster has made it easy for us to manage our tyres. The reporting system it provides allows us to monitor our projected costs and usage on a daily, weekly or monthly basis, giving us complete trust in our service provider. Thanks to ATS Euromaster's honest approach, we are already seeing a reduction in fleet costs and are confident this trend will continue."
Peter Fairlie, group sales director at ATS Euromaster, explains: "Good strategy springs from good data and sits at the heart of the consultative approach we follow when talking with prospective customers. Our initial analysis enabled us to reveal the changes needed to deliver a genuine improvement in efficiencies for Pets at Home."
ATS Euromaster now performs regular inspections of Pets at Home's fleet to ensure tyres are in a safe and legal condition, with replacements fitted before they reach the legal limit for truck tyres. To ensure Pets at Home only source replacement tyres when genuinely required, ATS Euromaster also turn tyres on the rim and twin them to ensure even wear is maintained, allowing Pets at Home to get the most out of their rubber. ATS Euromaster also proactively regrooves tyres to extend the life of the Pirelli fitments by a further 25 per cent.
All service work is carried out at Pets at Home's convenience, by mobile service vans from ATS Euromaster depots at Stoke and Northampton, close to the pet food and product retailer's major distribution centres.