Nexen Tire in Europe – new factory, R&D centre and distribution channels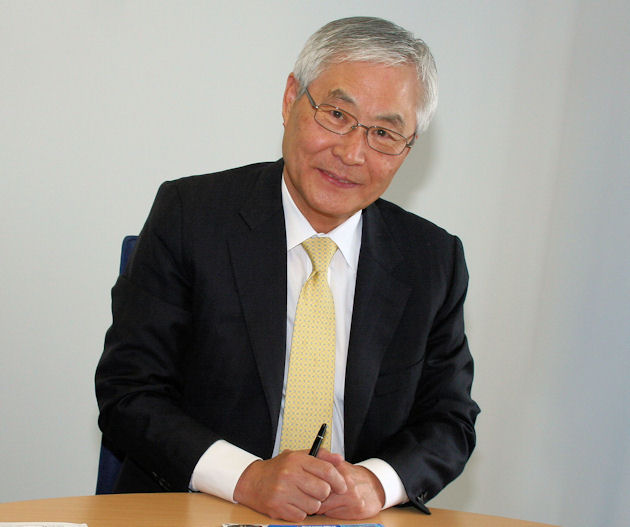 Times are changing for Nexen Tire in Europe. This year the Korean tyre maker intends to start work on its first production facility on European soil and on the construction of a new and larger European technical centre. Changes are also being made to the way Nexen tyres reach European customers. Nexen Tire Europe president Seung-Do Jin recently spoke to Tyres & Accessories about these plans, and on what the company hopes to achieve in Europe.
Nexen Tire's European capacities have reached their limits within existing company structures, particularly when it comes to research and development, production and distribution. And Nexen is well aware that things need to change in the near future if it is to continue on its current growth trajectory. According to the tyre maker's own figures, last year it sold around eight million passenger car tyres in Europe; all of these were shipped here from factories in Korea and China. Supplying the market from afar is an immense effort in respect to logistics, cost and time – it can take up to 16 weeks for a container of tyres to reach a European customer.
Market demand in Europe more than justifies the presence of a factory within the region, and last year Nexen's board decided that plans to expand capacities at its existing facilities in Korea and China from 35 to 40 million pieces per annum should be supplemented by a 1.2 trillion won (around £745 million) investment to build a passenger car tyre plant in Nošovice, Czech Republic. Nexen's Changnyeong plant in Korea, which opened in 2012 with the intention of reaching a capacity of 21 million passenger car, light commercial vehicle and SUV tyres by 2018, is considered a benchmark for the new factory in the Czech Republic, particularly in regards to technology.
Although a facility in the Czech Republic will free up capacities in Nexen's Korean and Chinese plants and enable the company to better serve those regions, this major investment is all about the European tyre market. "For us it's clearly about growth in Europe," comments Seung-Do Jin, emphasising that local production will have a highly positive impact upon the services the tyre maker offers. In other words, Nexen Tire and its customers will profit from shorter delivery times, increased availability and lower distribution costs.
The European tyre market has a reputation for its high standards, particularly in the original equipment sector – the lofty demands of vehicle manufacturers are well known. This also applies to the logistics related to original equipment tyre supply, and therefore a factory located in Europe would play a major role in further improving Nexen's working relationship with car makers. "A factory here will enable us to become much more flexible," comments Jin. Nexen Tire began supplying original equipment tyres to European customers around three years ago, initially in smaller sizes and small volumes. But the business has grown, and currently the Korean manufacturer delivers its products to Volkswagen (VW Polo, Skoda Octavia and Rapid), Fiat (500, Doblo and Multipla) and to the Hyundai Kia Automotive Group. The Korean automotive conglomerate, incidentally, operates a Hyundai factory close to the site where Nexen's new plant in the Czech Republic will be built, and Kia manufactures in neighbouring Slovakia. While it's still early days for Nexen's European original equipment business, Jin sees clear signs of further strong growth taking place, with additional partners coming on board and larger tyre sizes selected.
Achieving the right level of product quality isn't the only key ingredient in the recipe for a more active original equipment business – possessing appropriate research and development capacities is also vital. The opening of the Nexen European Technical Centre (NTEC) in Frankfurt-Höchst, Germany in 2011 accompanied the first original equipment homologations in Europe, and today the facility employs 22 engineers and technicians under the leadership of Hee-Jong Lee. But Seung-Do Jin says that although the NTEC is only four years old, the centre is already too small and a new NTEC must be built. Jin neither confirmed nor refuted media reports that this project will involve an investment of around €10 million.
Construction work on a new NTEC will begin this year in Kelkheim, around six miles from the current NTEC site. The facility will employ up to 35 engineers and technicians when the first project phase is complete and, looking further ahead, up to 50 upon completion of the second phase. Long-term plans call for a facility housing up to 70 engineers and technicians. Nexen aims to complete the first phase of the new NTEC project by 2016 and the second by 2020.
Regardless of the exact timetable, Seung-Do Jin says the further development of Nexen's R&D capacities will utilise more know-how, expertise and specialist knowledge 'in Europe and for Europe', and he expects to see this reflected in the products made for this region. On this point it is worth noting that Nexen Tire's product quality has already reached a premium level – the new Nexen N'blue HD Plus, for example, was rated 'exemplary' in this year's Auto Bild summer tyre test (size 185/60 R15 84H) and was ranked ahead of numerous premium brands. This result is only one of a number of recent positive test evaluations Nexen Tire has received from various publications and organisations. "We've invested heavily in our R&D facilities; this is the result," Jin comments to Tyres & Accessories.
New distribution structure
Alongside the manufacturer's growing presence in Europe's replacement and original equipment markets, the team at the Nexen Tire Europe head office are working on new ways to meet increasing demand for the company's products. To-date the Korean tyre maker has concentrated on supplying Europe via Factory Direct Container (FDC) business, with entire containers of tyres shipped from Nexen factories to a handful of wholesale customers responsible for the further sale of smaller quantities.
Every second tyre sold in Europe is said to come to market by this means, but it's no secret that European tyre wholesalers have come under a great deal of pressure of late; high market transparency has resulted in overstocked warehouses and squashed margins, and tyre makers find it difficult to plan their business with wholesalers. While European president Jin stresses that Nexen isn't re-evaluating its existing supplier relationships, the tyre maker nevertheless intends to differentiate its distribution in future and "invest in all distribution channels." Jin elaborates: "In the long-term, we want to build up and expand our retail channels, and do this alongside the wholesale business." This measure is necessary in part as the Nexen brand is increasingly sold by tyre dealer cooperatives and buying groups. As a first step into new distribution channels, Nexen is setting up a department dedicated to the large German retail market; an eight-person team will take care of business with tyre and car dealers there.
In addition to expanding its retail channels, Nexen Tire is also developing its logistics capacity. The company currently has one central warehouse for Europe, a facility located in Germany and run by logistics partner Goldbach Kirchner. Jin says that in future, tyre dealers will be able to receive orders of two or more tyres directly from this warehouse. Furthermore, Nexen Tire wants to establish a further warehouse in Italy "before the end of this year," and will "soon" set up a warehouse in France. "In this way we can improve our delivery service even more," comments the European president.